DCON Safety Consultants was first established in September 2016 and is a leading independently-owned Built Environmental Safety, Health & Wellbeing Consultancy based in Dublin city centre.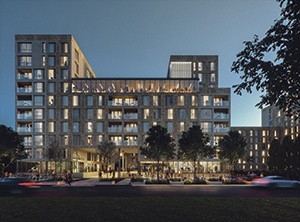 The company prioritises and specialises in the highest levels of informed and intelligent advice, senior project resource allocations and compliance assurance. The company benefits from a strong understanding of the potential risks attached with the planning of centring on the coordination of these two zones. With a team of highly experienced construction professionals, DCON Safety Consultants is fully committed to its clients and their projects enabling them to assist with the implementation of a design and construction management plan that meets or exceeds its client's expectations.
"We're a one-stop shop safety consultancy; we have a team of highly-experienced construction professionals who consistently ensure your best interest and statutory conformity. DCON Safety is committed to understanding the specific needs, goals and desires of each individual client and project." says Diarmuid Condon, who owns and run DCON Safety Consultants.
Indeed, DCON Safety's greatest resource at the heart of its operations is its exceptional team of technical construction and safety consultant partners who provide team-oriented services on an as needed basis. Their consultants and alliances with other key individuals and organisations enables the company to provide support to clients in all divisions of design and construction safety. DCON Safety provides an extremely dedicated service to its clients and the company ensures that they are the main focus for its team of professionals.
DCON Safety Consultants is relentless in its support of safe outcomes and safe design quality to help its clients realise their vision, with a rigorous controls approach to tackle big issues head on.
"We offer Health & Safety consultancy advice services to a broad range of clients throughout Ireland. We have some wonderful clients who use our services time and again. Business is good, especially now that the commercial, residential and public service sectors have reactivated themselves." Diarmuid said.
The main services provided by DCON are Project Supervisor for the Design Process (CDM Advisor), Pre-Planning Compliance, Safe Design Adherence, Health & Safety Strategy creation and Expert Witness. Regardless of project size or complexity; they maintain a wealth of expertise in the built environment and generate distinctive and innovative ideas born out of tradition construction service inputs and outputs.
Strategically supporting a positive planning decision is what sets DCON Safety Consultants apart from the competition. "Our Draft Construction Management Plan offering provides client/developers the means to demonstrate a commitment to safety in overall planning, coordination and control of a project from construction commencement to completion." Diarmuid continued, "These safeguards seek to support the obligation placed on a client to produce a safe, functional and financially viable project."
DCON Safety provides its clients with intelligent, practical and reasonable physical site safety advice to enhance and support compliance and good practice adherence. The company is able to identify opportunities for improvement and observations of good practice, which are the key factors of its services.
A noteworthy service for the company is its expert witness service to testify authoritatively on behalf of its client on safety and health matters. DCON Safety benefits from Diarmuid Condon's expertise in this area. Diarmuid is a competent safety professional who works closely with his clients to help them to identify exactly what kind of safety expert they need. Diarmuid uses his extensive network of contacts to recruit precisely the right person to protect his clients' interests and uses his unique perspective to encourage, support and mentor the abilities of his colleagues. Diarmuid is an integral part of the company and ensures that it excels in providing services to its clients, and displays exceptional achievement designing and executing strategic safety plans and systems.
In addition, Diarmuid has contributed his invaluable construction expertise to more than 400 different projects over a 20-year period. He maintains an extensive client list which includes: public sector departments, corporate owners, real estate developers, main contractors, design professionals and infrastructural bodies.
A quantity surveyor by qualification, Diarmuid consistently demonstrates his extensive knowledge and expertise including prior to setting up DCON Safety Consultants, Diarmuid was responsible for Safety, Health & Quality consultancy services in Ireland for a global project management/cost management consultancy. "I was afforded the opportunity to hone my technical and soft skills while working on some of Ireland's most recognisable projects." Diarmuid stated.
DCON Safety Consultants impressive client-base includes Hines Ireland, Lioncor Developments, Dalata Hotel Group, daa plc, Maynooth University, Westridge RE, Irish Life, Redrock, Roundhill Capital, various Data Centre clients and many more partnerships with various design practices.
"We would like to take this opportunity to thank them all for their continued support," Diarmuid concluded.
For any further information, please see the details below.
T +353 1 611 1556
www.dconsafety.com