It sadly remains the case that theft and break-ins to property remains all too frequent and a key issue for all.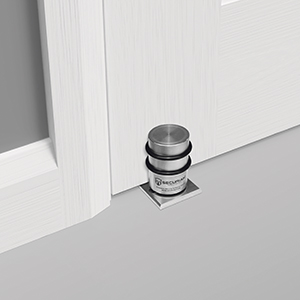 If anything, the stats show that, in some areas, crime rates have materially increased in the last couple of years. Residential properties and business addresses remaining frequent targets.
The growth around second homes, including lodges, park homes and caravans, has influenced these rates. There are also reports that a downside to the rise in staycationing has also been an increase in crime statics.
The impacts here go beyond the obvious distress caused to financial losses, as well as reputational damage for businesses as well as the increasing costs of insurance faced by all parts of the chain.
As a result, property owners and occupiers are taking steps to combat theft and damage by making it harder for theft or damage to occur.
Specialist security businesses are also leading the fight.
One such business is Securian Industries. Securian designs and manufacturers a range of easy to use door security devices. This is not the usual locks and chains. No, Securian's products are discrete door handle bars and door stops that keep a door protected whilst also being fast to install, fast to deploy and stylish.
Greg Allsopp, a director at Securian Industries explains more, "The business as a whole grew out of the rising rates of theft and criminal damage seen in the midst of 2020's lockdown. Properties of our own were affected too. We therefore set out to provide a range of cost-effective and simple products that help to mitigate these risks. All of our products have been designed to be installed in minutes, deployed to work in seconds and not require padlocks or keys that can be easily lost or can be difficult for some to use. It was also important that our products were attractive – there are plenty of industrial looking solutions out there but these do not necessarily fit with the decorative or lifestyle looks our customers are aiming for. Our products are therefore discrete, stylish as well as working beautifully too."
The range includes double/patio and single door bars that lock in place to prevent handles and locks being broken, and slide or drop in place door stops that can withstand significant forces to deter even a determined burglar.
Mr Allsopp commented, "Our products are being bought by home owners, business occupiers, leisure providers, care home operators and schools amongst a wider range of sectors. This just goes to show that keeping our property and possessions safe is an issue for everybody. Along with our stockists and distributors, we are pleased to be able to give customers a cheap and effective route to mitigating the risks from theft and break-in."
Securian Industries reports that it's actively seeking stocklists and distributors around the UK and Ireland with a network of stockists growing all the time and with increasing numbers of its products available for customers.
T 0330 333 7279
info@securian.store
www.securian.store