Since its formation in 1992, The Guild of Builders and Contractors has set the standards of quality and integrity in the UK's building industry. Created by a team of 14 builders, the Guild was founded with the aim to create a group of reputable firms and individuals who are actively involved in the building industry, and who boast the highest levels of experience, knowledge and integrity.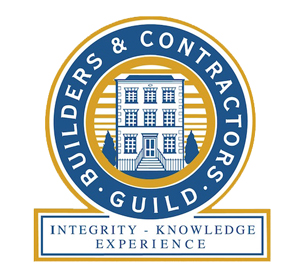 The Guild also wanted to provide appropriate services to members and ensure costs of membership were considerably less than other trade organisations. It features two levels of membership. The first of these is Corporate Membership, which is open to builders, specialist contractors, construction consultants, builders' merchants, and building component suppliers. These members can use the membership badge or logo on their stationery, signboards, vehicles and any other promotional materials, to advertise the fact they feature the high levels of quality and integrity that are synonymous with being a member of the Guild. The second type of membership is Personal, which is open to those who are actively engaged in the building industry.
As well as being able to feature the Guild's badge on your company's digital and physical materials, membership also offers a vast range of additional benefits. Apart from providing professional status and ensuring you are instantly recognised as a reliable, experienced, and knowledgeable professional, members also receive a certificate and promotional material free of charge. Furthermore, the Guild's experienced staff can offer advice on a wide range of subjects associated with the building industry and commerce.
Moreover, corporate members' full details are available on the Guild's website, which is regularly used by potential clients, meaning members can benefit from increased numbers of business referrals. The Guild also represents the collective views of members when speaking to the press, and provides regular news and information updates on its website.
In addition to this, members can take advantage of a members' advice service, which provides help with a range of issues including health and safety, terms of trading, employment, insurance and much more.
Firms and individuals are readily invited to apply for membership, and membership forms can be obtained from the website or via telephone, email or fax. For more information, be sure to get in touch using the contact details below.
T +44 (0) 20 8977 1105
F +44 (0) 20 8943 3151