Founded in 1919, Bona was the first in the industry to offer a full system of Waterbone hardwood floor finishing and floor care products. As a family-owned company, Bona is a sustainably driven company that provides products for installing, renovating, maintaining, and restoring premium floors. Offering products for the most premium of floor surfaces including wood, tile, vinyl, resilient, rubber and laminate, Bona has engineered, pioneered and perfected an entire system to create floors that last a lifetime.
Bona's founder, Wilhelm Edner is from Sweden and used to sell a product called Bonvax from his small grocery store. When applied to wood, Bonvax creates a polished and protective surface. After realising the products potential, Wilhelm founded Bona AB with a focus of bringing out the beauty in floors.
Today Bona has over 600 employees, spread across five factories around the world and is present in 90 countries through 17 international subsidiaries and distributors. Still headquartered in Malmö, Sweden, its UK office is based in Linford Wood, Milton Keynes.
Bona carries 100 years of experience and expertise in the flooring industry and offers customers a unique insight into flooring requirements and solutions. Providing solutions for all levels of flooring from commercial installations, renovations, floorcare products, coatings, fastenings, machines, abrasives and ongoing maintenance. From its commitment to sustainability to its relationships with its customers, Bona provide an unrivalled service that gives customers the highest quality products.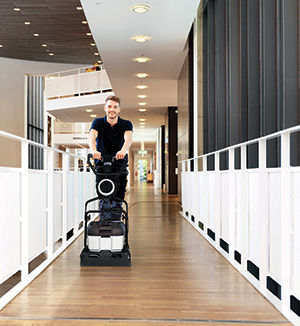 Sustainability is at the core of Bona and has been embedded into the company's culture since 1919. "What we've learned from 100 years of commitment to sustainable practices is that sustainability is ever-evolving. Rather than a destination, it's a multifaceted journey that changes as our world changes. Our sustainability journey is aligned and in accordance with the United Nations' Sustainable Development Goals and is focused on bringing better products and practices to home, health, and humanity – across the globe," stated Leanne Garvie, Marketing Manager.
Renewable raw materials were introduced with the first generation of Bona Mega in 1995. Bona source all its own raw materials to ensure the chemical composition of its products meet the strictest standards. Bona provides the highest quality design, craft and care in all its products and prides itself on its environmentally friendly profile. For example, Waterborne finishes were invented by Bona for wooden floors and offers a safer way to refinish floors improving working conditions for flooring contractors by reducing their exposure to solvents.
The SHE (Safety, Health and the Environment) policy showcases Bona's commitment to sustainability, and the company is proud to state that all of its manufacturing is certified by ISO 14001, GREENGUARD and Green Seal.
At Bona, a commitment to humankind means more than 'just giving back'. Bona like to think of it as 'giving forward', therefore, Bona has committed to a future of supporting both global and local communities. From international partnerships that support global change to donating time and resources to local fundraisers, Bona has made tremendous efforts to make a difference in the world. From partnering with Hand in Hand, a non-government organisation, to helping fight poverty, raising funds for local hospitals and working alongside university research programs, Bona deliver an abundance of services and outreach programmes to enrich the lives of those in need.
In recent news, "Bona now offers highly effective treatment steps and products for the renovation and maintenance of resilient floors. Our high quality, sustainable program allows you, to not only maintain floor freshness but also to totally transform the look of your existing floor without replacing it," said Leanne.
The Bona system comes with a complete range of high performing products designed to deliver durable and beautiful results. Its proven, trusted system of products offers a wide range of choice from coatings, adhesives, finishes, maintenance, machines, abrasives, tools and accessories. The resilient solution is proven to deliver a cost savings of over 40% with 50% less downtime. Ideal for heavy traffic in commercial and industrial settings, the system harks real sustainable benefits and is proven to save over 90% towards both energy output and reduced carbon footprint.
Bona's recent success has enabled a move into a new premises to cater to recent demand. The new premises houses an expansion of its warehouse facilities and is helping to increase its distribution capabilities. Bona products are targeted towards commercial property managers, facility managers, contractors, architects and even domestic floor owners. Its multifaceted capabilities allow Bona to adapt and be flexible to any customer's requirement regardless of what industry they serve. In closing, Leanne relayed what Bona envisages for the future, "we want to take the Bona brand to the resilient flooring renovation market. As market leaders in the wood floor sector we are keen to expand awareness to other floor types and facility solutions."
For more information, see below.
T 01908 525150
info.uk@bona.com
www.bona.com/en-gb