At Building and Construction Review we showcase the services of companies that excel within the construction industry. With this in mind, in this issue of Building and Construction Review, we have selected Britlift as the recipient of our Commitment to Excellence Award for their outstanding work within lifting equipment and solutions.
Britlift is a UK leading designer and manufacturer of below-the-hook lifting equipment and steel gantry and davit systems. Providing a whole host of innovative lifting solutions; Britlift provides a dedicated service and unique approach to lifting equipment.
First established in July 2017 by Liam Botting and Anthony Culshaw, the company has grown significantly since its inception and specialises in designing and manufacturing of lifting equipment, both bespoke and off the shelf.
"We are an engineering company specialising in the custom design, manufacture, testing and certification of lifting equipment." Liam Botting said, "We pride ourselves on our unrivalled service, experience and knowledge. All of our custom or stock items conform with UK/EU lifting standards and manufactured in conjunction with coded procedures and coded welders."
From the company's location in Dorchester, Dorset, Britlift delivers its solutions for the UK and internationally and provides engineering services including: custom design, lifting consultancy, test, inspection, installation, certification and structural calculations.
Being non-industry specific, Britlift provides solutions for a multitude of different sectors including: Marine, Oil and Gas, Building and Construction.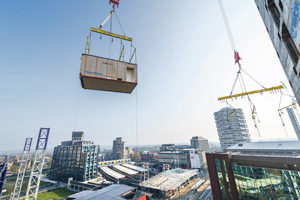 Renowned throughout the construction industry, Britlift has a growing dominating presence among the modular building sector. Providing both off-the-shelf modular spreader beams and custom specified lifting beams or bespoke handling solutions; Britlift's team of engineers are fully equipped to provide solutions to meet even the most specific of lifting requirements. "We are the go to company for offsite construction for lots of modular manufacturers who use us specifically for our custom design abilities." Liam expressed. "We have created custom lifting systems for various offsite manufacturers who had brought us into a project to provide a safe, effective, efficient and flexible lifting solution."
The company maintains copious amounts of solutions for construction lifting and provides lifting for: modular units and buildings, prefab buildings, sections, bathroom pods and concrete pilling.
One of the main aspects that Britlift specialises in is its custom services, providing clients with bespoke custom made solutions has enabled Britlift to be extremely versatile and create designs to fit the requirements of its clients. "We specialise in custom design engineering." Liam explained, "We are the only company that actively works in the custom part of our market.
"Our ethos is 'Innovation in Lifting' and I think this emphasises the custom point. From very early on we saw the opportunity to provide custom made solutions for lifting after listening to the needs of our customers. Through this, we have designed, developed and invested in the custom services of our company which has really pushed our business and filled the gap in the market for custom lifting solutions."
Another service Britlift offers is consultancy. With their team of expert engineers, the company provides a dedicated consultancy service to advise clients on their lifting needs and help clients complete their projects on time and on budget. Britlift can offer a full solution in terms of consultancy, design and manufacturing but also provide just design services or consultancy, Liam explained, "When we develop products we first offer consultancy and then fabrication separately. We have designed solutions for companies that have then had the design manufactured elsewhere. For instance, we worked with one company who had our design made in India to meet their time line and avoid shipping cost."
A noteworthy announcement for the company, Liam told us that, "We are about to announce a new global distributor." Liam continued, "We will have a new distributor partnership from February, which will be distributing our stocked products for the marine industry, in 20 countries worldwide."
With a dominating global presence on the horizon for the ever expanding company, Britlift has also seen expansion much closer to home, "We are about to expand our facilities and gain a second unit to create more office space to facilitate more office staff." Liam stated, "We've grown at a ridiculous rate! In less than two years we have gone from two of us, to what's going to be eight in the next few months."
"The growth has been overwhelmingly positive." Liam continued, "To have expansion in not only our customer base but to expand our facilities and staff to meet demands is a great achievement. We are so busy, so to have more resources at our disposal means that we can push on once again."
For any more information or to speak to the company directly, please see the details below.
T 0130 523 6123
www.britlift.com