Service Sealing Solutions Ltd is the sole UK distributor for the sealing industry's top manufacturers; DOYMA, FRANK and HKD. DOYMA granted Tina McAra the exclusive rights to distribute their products in the UK in August 2018, leading to the formation of Service Sealing Solutions Ltd.
"We are the UK distributor for a German manufacturer called DOYMA. We distribute their products throughout the UK." Added Tina.
Distributing the industry's best manufacturers, Service Sealing Solutions Ltd offers the UK the most extensive range of products, providing the best in German engineering to seal penetration points in walls and floors to permanently prevent any infiltration of gases and water into the building. DOYMA's products are designed to solve all watertight duct sealing requirements and prevent against structural damage.
Service Sealing Solutions Ltd supply the full range of DOYMA products, to suit all situations from power cables, communications cables, pipes and ducts and district heating pipes.
"I think what sets us apart is the German engineering and manufacturing, combined with a 25 year watertight guarantee. There is no one else that will provide a 25 year guarantee which is quality assured. Because they are German manufactured, I always like to compare them to Mercedes cars; they can be expensive but they are worth the investment – the quality and performance is so much better than any competitors." Mentioned Tina.
Service Sealing Solutions Ltd specialises in high-quality service duct sealing systems for utility services and watertight seals, offering the highest level of expertise to developers and speciciers for sealing against water and gas entering around service entries in basements and high-rise buildings.
"We provide DOYMA's products mostly to builders of commercial properties and we have provided for many of the large projects in London including HS2 and Kings Cross. Quite often they install the services and electrics underground and therefore have to guarantee water tightness." Stated Tina.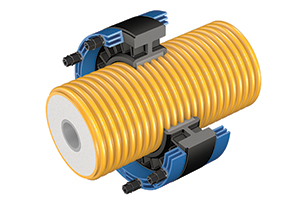 DOYMA is at the forefront of innovation, developing practical solutions for sealing and fire systems. The main ambition at the company is to create safe building penetrations for pipes and cables that seal off fire, gas and water. The company operates in three main competencies areas of civil engineering, building services technology and power supply, providing sealing systems for pipes and cables, single and multi-line house entries for supply and disposal lines, fire protection products for preventive structural fire protection and special designs and custom-made sealing systems.
DOYMA maintains a wealth of experience spanning over 50 years, utilising this experience and vast knowledge base the company ensures its seal range produces effective, simple solutions to meet all watertight service sealing requirements. This in turn, ensures that DOYMA's products provide the highest level of safety for sealing buildings where pipes and electrical cables pass through.
HKD which is now owned by DOYMA, manufactures a vast range of pipe sealing systems and service ducts with a guarantee that its products can withstand up to four bars of pressure. All of the HKD product range can be combined with the DOYMA's Curaflex range, one of the most popular DOYMA ranges.
With such a broad scope of innovative sealing solutions, the company has an ever growing market range consisting of various industry sectors. A notable customer and industry sector for the company is Vital Energi, a big customer for Service Sealing Solutions Ltd. Tina explained, "Vital Energi install district heating pipes, these are giant hot water pipes that run underneath towns and cities. These pipes can slide during operation, our gaskets are the only mechanism that can keep them watertight and sealed. This has opened up a new market and we are now selling to all the main district heating installers."
In terms of new developments, DOYMA has recently released its new generation Curaflex Nova® gaskets – professional solutions for tradesman with uniquely safe installation. Providing tradesmen with professional gasket inserts, the new generation of Curaflex Nova® gasket inserts instantly solves sealing problems and is adaptable for multiple applications.
As the company looks toward the future, its main aim is to continue to grow and further its reach into new markets. "We've seen a steady turn over each year with no down turn, so mostly we will be continuing this success and looking at new markets such as the district heating market, which is a big and growing market for us."
For any more information, please see the details featured below.
Contact
T 01952 510050
www.servicesealingsolutions.co.uk