Building and Construction Review is proud to announce that Vandecasteele Houtimport has received our Timber Products & Services award.
Vandecasteele Houtimport is a fourth generation, family run business that imports timber and timber products from more than 45 countries. The company specialises in the import, trading and export of Tropical Hardwood from Africa, Southeast Asia and South America, Scandinavian and Russian Softwood, Siberian Larch, North American Soft and Hardwood and European Hardwood.
"We import, stock and distribute hardwood and softwood from all over the world to over 30 countries. Due to the fast pace of modern industry, we can react quickly to our customers' demands and deliver stocks difficult to source within days on our own fleet of 18 vehicles," said Genevieve Standaert, Export Manager.
Established in 1883 by Louis Vandecasteele, Vandecasteele Houtimport is located in West Flanders with its uniquely designed warehouse and office in the town of Aalbeke, Belgium. Vandecasteele Houtimport has its own impressive storage facility that can accommodate more than 120,000m3 of sawn timber products and with the additional shed now being completed, the total covered space of the company's main warehouse now reaches 16 Hectares.
Vandecasteele Houtimport specialises in the import, trading and export of Tropical Hardwood from Africa, Southeast Asia and South America, Scandinavian and Russian Softwood, Siberian Larch and North American Soft and Hardwood.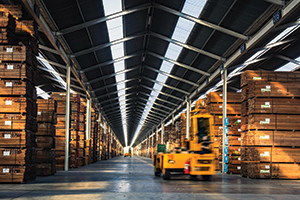 "Vandecasteele has the resources and ability to adapt to the sensitivity of the market and bridges the gap between sources of supply in Africa, Far East, South America and North America to Europe, in a matter of days." Genevieve stated, "This makes the company the first choice with many importers and merchants. Utilizing its most impressive and vast stockholding of Hardwoods and Softwoods coupled with strong environmental credentials."
Vandecasteele Houtimport has over 140 timber species in stock including the new addition of certified European Beech and Oak in Joinery, Prime, Super Prime grades and flooring. With a broad range spanning from the most expensive and rare hardwoods, to a full assortment of softwoods, Vandecasteele Houtimport provides a selection of wood available in various quantities and sizes.
100% of the softwoods stocked are certified. Over 30,000 m3 of the Tropical hardwood stock is now certified and this number is still growing. Vandecasteele has a dedicated team to ensure all due diligence is up to date. In addition to the strict due diligence process, Vandecasteele has invested in a forest engineer in Brazil to ensure full control on the CoC of the Brazilian timbers purchased. This makes Vandecasteele Houtimport the biggest stockholder of certified tropical timbers in Europe.
"We provide large volumes of certified stocks, plus specialist dimension material, available for prompt dispatch," Geneviève said.
A feat within the company's range is Thermo Ayous, a thermally modified timber which is an excellent choice for cladding. Thermo Ayous is a knot free clear grade hardwood, which has been created using the latest thermal modification processes. Thermo Ayous Wood Cladding is a popular choice next to a whole range of traditional species such as Western Red Cedar, Siberian Larch, Oregon Pine, European Oak and many Tropical Hardwoods which are commonly specified by Architects.
Vandecasteele Houtimport maintains a strong stance on meeting sustainable and environmental aims within its business.
"Since 2000, Vandecasteele Houtimport has committed itself through the Corporate Sustainability Charter, by signing up to environmental objectives and exceeding applicable environmental legislation." Genevieve elaborated, "The charter is a management tool and incorporates the 17 Sustainable Development Goals of the United Nations. This year, we are proud to have obtained the internationally recognised United Nations "SDG Pioneer certificate".In terms of recent developments for the company, Vandecasteele Houtimport has seen expansion in numerous ways. Recently, the company has invested in the construction of a 37,000 m2 warehouse extension to ensure all products are centralized for fast picking and loading. The warehouse has also been installed with solar panels on its roof, in keeping with the company's sustainable business plan.
Genevieve explained that the company is also "installing a 3-mile racking system to speed up the picking of packs and we have upgraded our trading system which has been rolled out, allowing customers to browse and order packs, plus obtain full packing and quality details."
With a clear dominating presence through the company's 135 years of trading in wood, Vandecasteele Houtimport is continuing its commitment to its customers and suppliers and is striving to continuously improve its business. The company has also set a challenging goal to stock 100% certified timbers from 2025 and looks to the future with confidence.
For any more information, please see the details below.
T 0032 5643 3300
www.vandecasteele.be