In this issue, we've chosen to recommend RapidSpec for its innovative software for Architects, Building Contractors and Fire Door Manufacturers.
RapidSpec is an industry-leading software product developed to eliminate errors in Door set specification and the production of door schedules. Most errors arise from human input. This is not surprising as the processes can be very complex with multiple factors that need to be considered all at the same time. By standardising the input and having the software make hundreds of checks in the background RapidSpec can eliminate or significantly reduce these errors.
For example the software is designed to prevent a selection of product or ironmongery if that selection is outside of the chosen fire rating. The software also helps production by creating a full elevation drawing of each door set type. These steps and others built into the design, take the stress and guess work out of creating accurate door schedule documents, project estimates and bills of materials. RapidSpec automatically produces a door schedule document and produces a detailed, scaled and dimensioned drawing for both the customer and factory operator. It enables its users to duplicate any door set in a project, make adjustments and re-calculates prices automatically.
Designed to increase productivity, RapidSpec provides an easy and efficient way to create estimates and door schedule documents without error. The software will produce an accurate fire door schedule complete with diagrams, dimensions, project estimates and bills of materials. Manufacturers can then use this document to create a fire door, to the customers agreed specification.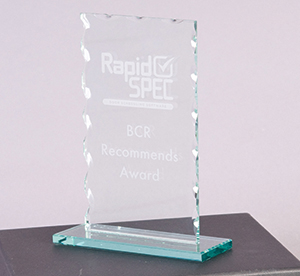 RapidSpec is an estimating and works order processing programme for specifiers, building companies, construction, building contractors and architects. The software improves productivity by an average of 24% and eliminates errors. For fire door manufacturers, all cutting lists are calculated instantly from the accepted quotation. This can reduces lead times on larger contracts by a week or weeks whilst still maintaining accuracy.
Being designed and developed for professionals, RapidSpec has been meticulously developed over a period of 20 years. The core ambition of the software has always remained the same; ease of use and speed but principally, error free output. RapidSpec reduces costs days after installation, by increasing productivity, reducing errors and waste.
In new developments, RapidSpec has also developed a link to a door data tagging systems (Door data systems Ltd) this system uses a tiny insert put into the edge of the door by the manufacturer. RapidSpec creates a CSV file and barcode label that links each door set to the data stored via the insert, creating a permanent record of each door. This system is commonly called the 'golden thread' as from concept to delivery, installation and maintenance; is all done and recorded without error. Everything is listed and registered.
Derek explained, "When a fire door manufacturer makes a door set they have to supply full specification, installation guides and certification to the customer and door fitters proving that the door is manufactured to the fire door regulations and certification. This traditionally creates lots of paper work for manufacturers, which is time consuming and could contain errors. This little tag stores all of the data that is easily transferred from RapidSpec, making it readily available for fitters and inspectors to gain access to the fire certification for that door set."
Another innovation for RapidSpec is the creation of a standard spreadsheet for architects to use as an industry standard format for fire doors. "In creating a door schedule, most Architects produce spreadsheets with all of the door specification included. By using our standard spread sheet layout, the data can be imported directly into RapidSpec ensuring conformity to the architect's requirements.
The government have recently acknowledged that greater wealth, for the country or for any business, relies on high levels of productivity. We find companies are now more open to finding ways to increase output without increasing costs. With the inevitable increase in wage costs, companies are looking for more efficient ways of manufacturing.
Those that do are more likely to prosper than those that don't. "We started 20 years ago with an initial idea to increase productivity and the challenge for us has been demonstrating how important it is". In the fire door manufacturing industry any company that is currently making 5% net pre-tax profit will double that profit with just a 10% increase in productivity. Put another way if every employee completed each hours work in 56 minutes the company would add 5% to its net pre-tax profit. (Yet another way, putting £100K into the bank instead of £50K for each £1million of turnover per year)
Derek continued, "we lease our software, we don't sell it. The idea behind this is simply that our software should never be a cost. It should be making more money than its costing. Before a customer pays us a penny he will realise savings that are greater than the cost. If it did not do that there would be no point in using it. We aim to help companies realise that higher productivity is better for their business. By reducing the amount of time required to make the end product the natural result is higher productivity and higher profit."
RapidSpec has seen significant growth over the last year and plans to continue its approach in the future. Derek added, "We've expanded our staff including marketing, sales and IT personnel all in the last 12 months. Our next step will be exporting."