Established well over a decade ago, Artizan Lifestyle specialises in wood and gas burning fires and renewable energy solutions. Boasting a small but highly skilled team, Artizan Lifestyle prides itself on its leading expertise in the design and installation of beautiful fireplaces for both small and large projects. Working with residential and commercial customers, Artizan Lifestyle has a true artistic flair, and uses its creativity to constantly update and develop its extensive portfolio.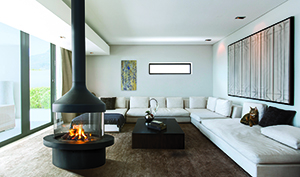 With a large showroom in Wokingham, Artizan Lifestyle has a team of skilled designers to help realise your ideas, bringing your dreams to life through hand drawn sketches and computer-generated images to make sure you receive exactly what you've envisaged. Furthermore, Artizan Lifestyle's team of skilled and professional installers help to ensure you are more than happy with the end result.
Supplying to and working with architects, builders and designers, Artizan Lifestyle's fireplaces provide an aesthetically appealing and welcoming gathering place in a home or commercial establishment, offering warmth and visual allure to encourage conversation and relaxation for everyone in the vicinity.
"As well as manufacturing the equipment for and installing these wood burning and gas burning fires, we are also seeing increasing growth in the renewable energy side of the company," said Lynda Taylor, Sales Director. "It has been growing steadily over the years and in the last 12 months it has seen a significant jump in popularity. We're constantly evolving to keep up with any governmental changes. The pressure is on across the world to be using renewable energy, so this area is only going to continue growing and become more prominent." These renewable energies include ground source and air source heat pumps, and domestic and commercial biomass systems.
As a specialist in tailored domestic heat pump systems, Artizan Lifestyle uses only the best components and technology in the design and installation of heat pump systems, and every product comes with a full manufacturer's warranty. Heat pumps are recognised as a renewable technology by both UK and EU Governments, providing an effective and energy-efficient alternative to traditional heating systems. Artizan Lifestyle offers the latest technology to heat your home and hot water using energy absorbed from the outdoor air (air source) or ground (ground source). These heat pumps are an established and proven technology, supported by Government incentives and offering an economically viable and flexible domestic heating solution.
Artizan Lifestyle also offers high quality biomass systems. The company is an accredited MCS, HETAS, Fgas and OFTEC installer, with many years' experience in the installation of solid fuel (wood and coal) heating systems, so the transition to solid biomass was a natural process. After installing its first biomass boiler in 2008, the company has seen an increasing number of projects completed and accredited for RHI payments.
Recently, two of Artizan Lifestyle's high-end designer fireplace manufacturers, Kalfire and Focus Fires, released two fireplaces which are truly ahead of the game, featuring a holographic electric flame that looks like the real thing. "Because new homes are so airtight now, you often don't need the heat of a real fire, but that doesn't mean you should miss out on their aesthetic appeal. These two fires give you the beautiful image of a real burning fire, but without the maintenance required or flue.
"I saw the E-Focus fireplace at the 100% Design show last year, and people were stopping in their tracks to look at it. That's how stunning they are, and they're sure to be a great hit as people invest in their homes and other spaces."
Underpinning this vast range of products and services is an ongoing commitment to outstanding customer service and an acute attention to detail. "This consistent attention to detail is what truly sets us apart. We always aim to exceed our customers' expectations, keeping them in the loop throughout the process. We regularly receive feedback from customers about how friendly and helpful our teams of engineers are.
"We're looking to increase our service offering moving forward, keeping customers happy and adapting to the changing marketplace, ensuring we continue to do things that other companies can't. We want to make their dreams a reality and make sure their design happens. So many people want the aesthetic appeal of these beautiful fireplaces in their homes, to really offer the 'wow' factor, and that's what we're aiming for."
Although trade shows have on the whole been postponed for this year, Artizan Lifestyle has previously attended a number of large events, including Grand Designs, 100% Design, Homebuilding and Renovating, and Ideal Home. "These are a really great opportunity to see the fireplaces in person and get the full effect of their beauty."
If you would like to find out more information on everything Artizan Lifestyle has to offer, head to the website. Alternatively, don't hesitate to get in touch using the contact details below to speak to a member of Artizan Lifestyle's friendly team.
T 01344 356900
office@artizanlifestyle.com
www.artizanlifestyle.com