For many industries this year, it has been a challenge to find a way to communicate clearly while reducing the risk of COVID-19 infection. Wearing masks or having screens up limits the spread of viruses, but they also greatly hinder communication.
Thankfully, there is a device that can help solve these problems in an efficient, cost-effective and easy-to-install manner. The Melaphone was developed in the late sixties by the late Jim Talbot, an entrepreneurial engineer.
It was originally developed for British Rail ticket windows to keep staff safer and warmer while maintaining communication with customers. "Because they were suffering from absenteeism during the winter, they needed some way of protecting staff from bacteria and viruses from customers, but in a way that they could still be heard," said Richard Woolff.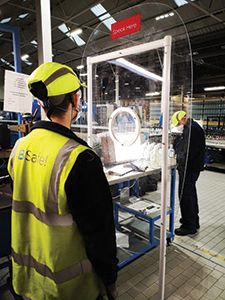 Talbot Designs Ltd, Jim Talbot's development company, was purchased by the current directors in 1963 and continued to make Melaphones until Anna Talbot, Jim's widow, decided to sell the firm's name and goodwill to Signtrade Ltd, also owned by the directors of Talbot Designs. The company continues to make and sell Melaphone products all over the UK and the rest of the world.
Now, Melaphones are used in a diverse range of security and dust-sensitive situations throughout the world, whether it is a simple kiosk at an amusement park or a highly protected area in a pharmaceutical laboratory or cleanroom, where secure germ and dust free conditions are essential.
The Melaphone Amplifying Speech Unit can be retrofitted to many existing screens, such as in buses and in airport check-in areas, and the company can advise customers on how the Melaphones can be adapted to suit their individual requirements.
Fitted with a polycarbonate guard which has a high impact strength, the Melaphone is protected against assault. It also features a stainless-steel mesh guard cover which gives considerable additional protection to the user and to the Melaphone unit without impairing the quality of speech or viewing. Inside the unit, the clear membrane blocks germs, draughts and dust while maintaining speech and vision.
"They're an easy way of talking to each other without having to open a door or have an unprotected gap in a screen. The membrane is the thickness of a hair and has been tensioned in a way that means it vibrates when you talk, allowing speech to be heard in an air-sealed way. Nine months ago, people started needing ways of protecting themselves as the pandemic took hold, and hundreds of Melaphones have gone into Doctors surgeries and other medical environments during this time," Richard explained.
Melaphone also offers the Defender Screen, which provides immediate virus protection for frontline staff. It features a strong, clear wraparound screen incorporating the Melaphone Amplifying Speech Unit, which is cleanroom certified against airborne viruses and bacteria.
The Defender Screen is easily installed using the supplied drilling template and is held firm to the desk with a pair of high quality steel support brackets. It comes ready assembled and can be operational in a matter of minutes, making it ideal for immediate protection and quick installation. It is constructed using acrylic composite mineral sheet, which is light, easily cleanable, and has a smooth warm touch.
"The company is backed by over 70 years of making high quality plastic objects, so you can rest assured that the Melaphones are incredibly high quality. Nothing is mass produced, everything we do is bespoke to make sure it suits what the customer needs.
We get a lot of people contacting us asking if we can make something for them. We've recently been asked by someone in an engineering company in Burnley to create a mobile Melaphone Defender Screen. Their factory is extremely noisy so they have to shout to each other to be heard, so we're producing a screen that can be moved around the factory so staff can communicate in a safe manner."
Indeed, although these screens are most commonly found in offices and reception areas, they are an ideal addition to noisy workplaces, such as factories and building sites. If you're having to shout at each other to be heard, it can increase the risk of spreading airborne viruses, so a mobile Melaphone Defender Screen would be an ideal way to keep staff safe while maintaining communication.
If you would like to find out how Melaphones can be implemented into your workplace, head to the website or get in touch using the contact details below.
Contact
T 01359 233191
www.melaphone.co.uk