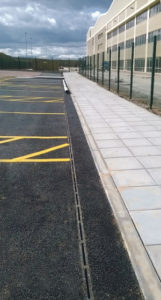 The Primark Distribution Centre, near Kettering was developed by London Metric Property Plc. Known as Thunderbird 2 the £77 million facility comprises a 93,000m2 warehouse, some 5,000m² of office space and 50,000m² of hard standing with parking for 175 HGVs and 530 cars.
Built on a remediated brown field site convenient to the A14, the development also includes a separate Vehicle Maintenance Unit, Refuse Recycling Centre and automated gatehouse. The site has achieved a BREEAM Very Good rating. A major earthworks operation was necessary to level the ground and create the vast plateau on which the building and hard standings were constructed. With such a large hard standing area an effective surface water drainage system was essential.
Having supplied high capacity surface water drainage channels for hard-standing areas at numerous distribution centres thorough out the UK, Hauraton were confident their RECYFIX® HICAP® high capacity channels would comply with the stringent specification asked for by the contractors.
It was decided to drain the hard standing area using four sizes of RECYFIX® HICAP® – 100, 200, 300 and 680 because of their overall volume capacities. As well as straight runs of 100 and 200 channels, the 200, 300 and 680 sizes were installed in a step fall arrangement providing an enhanced water volume for these runs of 366,324 litres per metre (l/m). All the sizes supplied had fixed ductile iron, 14mm open slot inlets finished with KTL, a rust resistant coating. All 1229 metres of RECYFIX® HICAP® channel installed complied with loading category Class F900 (900kN).
By affording a superior overall hydraulic performance, the HICAP® system generally allows engineers and contractors' flexibility in surface design and installation, reducing the number of channel runs normally required to drain a given area. This reduction means less underground excavations, materials and vastly reduced installation time. Usually as there are fewer runs required, the surfaces strength is not compromised whilst future maintenance and cleaning will also be reduced.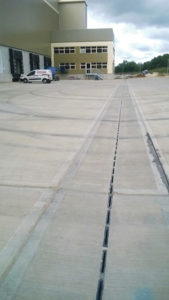 With laden HGVs weighing up to 44 tonnes, manoeuvring trucks impose an enormous twisting stresses on any surface drainage system. Not only must the area be efficiently drained, the installed system must also withstand the twisting forces exerted by a truck's wheels.
In addition some 200m of Hauraton FASERFIX® KS 100 channel with HEELSAFE ductile iron gratings were also installed in the site car parks requiring a loading category of Class C250 (250kN). The gratings were also specified with a KTL coating.
Peter Dicken, the Hauraton Project Manager, was confident when his company's high capacity channels were chosen for this enormous drainage project, "The RECYFIX® HICAP® channel components are made from specially formulated recycled polyethylene (PP), the 100, 200 and 300 channel used, with the ductile iron inlet, weighed less than 25kg so allowed one-man-lift of these units. This greatly simplified handling and logistics for merchant MJP and Ground works contractor, O'Brien Contractors, who found the combination of a tough PP channel and ductile iron slot inlet resisted site damage during installation. As with all Hauraton surface water drainage channels, the performance of the RECYFIX® HICAP® and FASERFIX® KS ranges complies with European Standards (hENs) and carries the CE mark".
QR code for www.drainage-projects.co.uk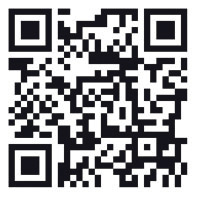 Peter Dicken,
T 01582 501380
M 07768 333851
peter.dicken@hauraton.co.uk