At any given time 1 in 4 people will suffer a mental health problem. That means every day you will meet someone at work, bump into someone at the supermarket or be sat next to someone on public transport who are dealing with depression, anxiety or stress just to name a few. You are likely be totally unaware that someone will have a mental or psychological condition, as unlike most physical illnesses, the signs of poor mental health aren't always easy to spot.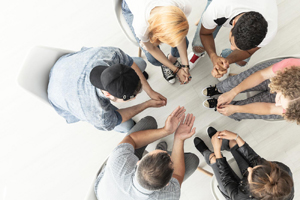 That's why Total Training deliver Mental Health First Aid (MHFA) England training courses to teach people to spot the signs of mental health issues, offer initial help and guide a person towards support. The course won't teach you to be a therapist, but it will teach you to listen, reassure and respond, even in a crisis – and even potentially reach out to someone before a crisis happens.
Total Training's quality mental health training will give people the tools to keep themselves healthy and support each other. Whilst also offering 5 core benefits to any workforce:
Build employees' confidence to have open conversations around mental health and break the stigma
Encourage people to access support early when needed, for a faster recovery
Empower people with a long-term mental health issue or disability to thrive in work
Promote a mentally healthy environment, stopping preventable issues and allowing people to thrive and become more productive
Embed a long-term positive culture across the whole organisation, where employees recognise their mental and physical health are supported as equal parts of the whole person.
"The course was very insightful, and a huge eye opener. With the level of course detail, the content started to hit home as I began to notice symptoms I knew people had" Said Liam Jacob, Employer Engagement Officer. "I opted to complete the course due to having worked with people with mental health issues and knowing people personally within my family who also struggle with poor mental health. I now have a greater understanding of mental health and I'm able to support those around me".
If you would like to find out more information on becoming a mental health first aider head to Total Trainings website. Alternatively, get in touch using the contact details below.
T: 0121 706 0851