Established in 2001, Trads specialise in traditional cast iron radiators and accessories that provide a unique form of heating, which incorporates the characteristics of the past with the functionality and design of the present. Providing a range of both traditional and contemporary cast iron radiators, Trads maintains a selection of options including custom designed and ready made radiators, all with a lifetime guarantee.
Celebrating its impressive 20th year anniversary, Trads has the expertise and skills to provide a turnkey service, using its team of craftsman create all orders in house, handcrafted in Lincolnshire.
"We provide cast iron radiators and all accessories. We cover the whole of the UK and we also supply oversees as well, including to Europe and sometimes to Dubai, United States, Russia, Australia and New Zealand." Stated Barry Whitehead, Sales & Marketing Manager.
Featuring distinctive designs, produced from quality materials by a highly skilled and experienced team of craftsmen, Trads is well equipped with the knowledge and expertise to create bespoke, made to order radiators. Utilising their skillset, the team works hard to provide fashionable traditional designs with the innovative functions and practicality of the modern era.
Boasting such impressive design capabilities, Trads is able to provide designs in any desired colour and provides a diverse selection of finishes including painted finishes, hand burnished, highlight polished, satin polished and antique finishes.
"We offer over 10,000 colours, with some of the top brands including Farrow & Ball, Robersons Liquid Metal and Little Greene. We can do a colour match sample service, so if you have a wet sample we can colour match it. We also provide free UK Mainland delivery on Accessory orders over £149 and all Radiator orders over £449 including VAT." Said Barry.
Providing a top quality customer, the company places the utmost importance on its customer service and ensures it meets all customer enquires in a timely, efficient manner.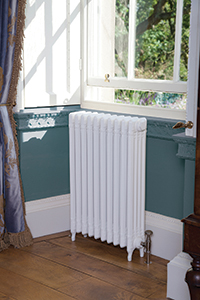 "We like to make sure that we can answer queries from customers as fast as possible, in a timely manner and we have spent quite a lot of time investing in our services, making sure our responses are helpful and quick. We have had great customer reviews and have a 4.5 star rating on Trustpilot." Added Brian Athey, Director.
Renowned for its customer service, Trad's has built a resounding reputation on first class customer service. See a few examples of its outstanding customer reviews below.
5 stars – 'This Companies Customer Service Is 5*
'Ordered 4 Dragonfly cast iron radiators, custom sizes so had to wait several weeks but was aware of that. Radiators arrived and as warned, it was an outside delivery, we had to get the radiators to their final locations, make sure you have help, these can't be moved by one person, I had my sons help me, both adults and I needed the help. When fully built the largest radiator weighs about 40 stone. We had a couple of small issues during the assembly stage but Trads were more than helpful and sent us some small spares FOC. This companies customer service is 5*, I couldn't be any happier with them or the product. All are now working, keeping us warm during this cold winter and look amazing.'
5 stars – 'Absolutely Delighted With My Beautiful Hand Burnished Radiators. All the staff are very helpful and they really went above and beyond with the after-care to make sure everything was perfect. Can't recommend them highly enough.'
With such a big focus on customer satisfaction, Trads also provides a virtual service for its customers using its website. "We have an option if you go on our website, where you can create your own radiator. This allows you to visualise the product and fully customise it. The website does a good job of visualising for customers as they are able to look at the product, where it is and see the size of it within the room." Said Brian.
A statement piece to complement the household, cast iron radiators lend themselves seamlessly into any interior. Not only for use domestically, Trads has also worked on many commercial projects too including Newcastle University, Stately Homes, Manor Houses, Mill Bank (Central London) Residential Conversion Project, offices and many more.
After what many have seen as a challenging year, Trads has been happy to carry on providing its services throughout the COVID-19 pandemic and has been busier than ever. As such, the company is currently making significant investments in its infrastructure to increase its capacity.
"We did see that an increase in demand last year, which was significantly higher than what we've experienced before. We've now invested to increase our capacity and to help us to be able to grow the business going forward." Mentioned Barry.
Brian added, "We are also putting more models into our Ready Made Radiator range for last minute customers. We have these available for people that are in a rush and require a faster solution. They can go on this range, click on it and have a very quick service, with a delivery of just 2-3 working days."
Committed to excellent customer service, Trads boasts an unrivalled outstanding customer service, complemented not only by its lifetime guarantee on all cast iron radiators but also through its selection of extra benefits, including a 5% discount on all orders over £3000.
For any more information on Trads, please see the details below.
Contact
T 01400 283320
www.tradscastironradiators.co.uk