In this issue of Building and Construction Review, we are proud to announce IMS Heat Pumps Limited as the recipient of our Heating & Ventilation Products & Services Award winners.
With over 20 years' experience, IMS Heat Pumps is one of the UK's leading Ground and Air Source Heat Pump installation experts in the UK. Through excellent designs, installed by skilled and knowledgeable engineers, IMS Heat Pumps ensure its customer's bespoke heating systems provide 100% of the heating and hot water they need.
Established in 1997, IMS Heat Pumps work with newbuild, self-build, custom-build homeowners, main contractors, developers, builders and architects across Scotland, the North and Midlands areas of the UK, from offices based in Perth and Sheffield.
With in-house expertise, IMS Heat Pumps designs, supplies, installs, services and maintains ground, air and water source heat pumps and associated underfloor heating /radiator distributions systems. IMS Heat Pumps ensure its customers get the right low carbon, energy efficient heating and hot water system for their property.
We spoke with Emma Bohan, General Manager of IMS Heat Pump Installers who proudly stated, "We are MCS Accredited, TrustMark and Trading Standards Approved. We are members of NAPIT, HEIS and SNIPEF. We sit on the Ground Source Heat Pump Association Council and adhere to their strict Code of Conduct. Our designs are independently validated by EPVS."
With an impending ban on gas boilers from 2025, IMS Heat Pump Installers recognise the power of heat pumps and the role they play in shifting the UK to net-Zero by 2050. Carbon emissions from Heat in Buildings is a key challenge, but air source and ground source heat pumps are a proven technology providing efficient, effective low carbon heating for domestic and commercial properties.
Whether you are involved in self or custom builds, installing a ground, air or water sourced heat pump will not only provide for 100% of the heating and hot water needs it will future proof your new home from fossil fuel price rises or future carbon-based penalties.
A correctly designed and expertly installed heat pump will minimise utility bills, reduce carbon footprint, and qualify you for the Renewable Heat Incentive (RHI) Government scheme. There really is no better time to install these systems into your new build or renovated property.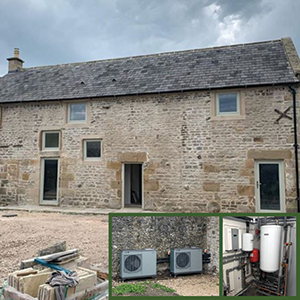 IMS Heat Pump Installers has been future proofing homes against fossil fuel price rises for over 20 years. Putting an end to the gas boiler and potential carbon taxes, 100% of heat and hot water is delivered by the heat pump without the need, in most cases, for a back-up boiler.
Using only electricity to power the pumps, this technology used to heat your home will help lower your footprint, contributing to the UK's target of net-zero by 2050. The heat pumps deliver remarkable results reaching 300% to 500% efficiencies by transferring 1kW of electricity to 3kW – 5kW of heat into your home.
"This year IMS Heat Pumps will be delivering its heat pump systems into three 'Grand Designs' properties and many other beautiful custom build and self-build homes along with a number of small but prestigious developments." Stated Emma.
With many years of experience, all work is done in-house, without the use of sub-contractors. "Our expert, in-house team are some of the most knowledgeable in the UK. With over 150 years of experience, installing systems for over 20 years, we have been in the business for a long time; providing a knowledgeable, trusted, experienced, friendly service for our clients. Unlike many in our industry, IMS don't take deposits or advance payments. We work with you, your builder or your architect to ensure that the installation process is fully co-ordinated." Said Emma.
Going forward, IMS Heat Pump Installers is delighted to be attending the Home Build & Renovation Shows taking place in Harrogate on the 5th – 7th of November 2021. This is the perfect opportunity for self-builders or renovators to meet IMS Heat Pumps installers and experts to get all the advice you need for your home project.
Emma explained how the company felt receiving the award, "IMS is delighted to be acknowledged as a Premier provider of Heating Services for the design, supply and installation of ground, air and water source heat pumps in the new build, self-build, custom build sector that recognises that our clients are guaranteed the right, bespoke, technical solution for their dream home, Grand Design or prestige development. We continue to go from strength to strength and are delighted that heat pumps are being acknowledged as the 'no regret' technology to install today to future proof your home for tomorrow".
For more information, please see below.
Contact
T 0114 327 0100
contact@imsheatpumps.co.uk
www.imsheatpumps.co.uk