Developed by CJ Automotive Group, the £9.5 million Lightcliffe automotive dealership showroom complex and servicing centre is the first in Wales to have all the Volkswagen Group car and commercial vehicle brands; Volkswagen, Audi, Skoda and Seat on one site.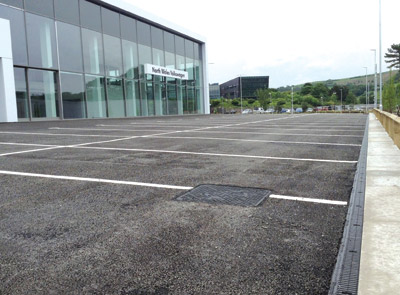 Nearly 700 metres of Hauraton RECYFIX® PLUS 100 Type 010 surface water drainage channels, factory fitted with ductile iron HEELSAFE 6mm slot grating to loading Class D400 were installed at the new VW Group dealership at The Point, Llandudno Junction, Wales.
Each RECYFIX® PLUS channel component is moulded from 100% recycled polypropylene (PP) with galvanised steel pressings permanently fitted along the exposed top edges. Channels supplied to the VW site were factory fitted with 6mm slot HEELSAFE ductile iron gratings. The gratings on both channels' and access points' being treated with a corrosion resistant coating (KTL). This treatment is absorbed by the ductile iron, allowing Hauraton to give a life time guarantee against rusting alleviating any concerns raised by consulting engineers, Rolton Group.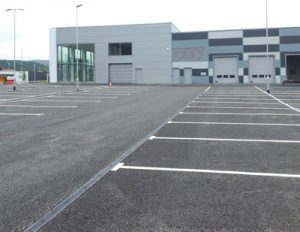 The main contractor, the Watkin Jones Group commenced work on this project in 2013, handing over the finished prestigious complex in May 2014. The new showrooms aim to provide 200 new job opportunities to the Llandudno area.
Ian Burton, the Hauraton Project Engineer was pleased that ground-workers found the RECYFIX® PLUS easy to install, "With each one metre channel assembly only weighing 10.9kg one man could lift and position each unit during the installation phase."
For more details and project support, please email: technical@hauraton.co.uk, phone:
+44 (0)1582 501380 or visit: www.hauraton.co.uk