Hauraton Limited, well known for their surface water drainage products, also offer three ranges of Service Channel suitable for use as sub-surface cable ducting for both indoor or outdoor locations including; sports venues, major stadiums, exhibition halls, factories, warehousing and container depots. The channels provide safe yet accessible installation of electrical and data cables.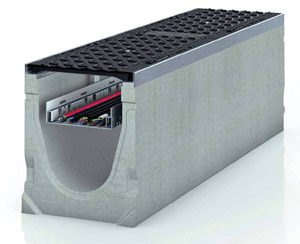 Two ranges are based on the company's one metre long fibre reinforced concrete channels, FASERFIX® SUPER and KS. The SUPER models incorporate a 40mm deep galvanised angled housings on their top edges allowing Class E600 ductile iron covers to be fitted. The KS models have a 20mm deep galvanised angled housing and are available for Class C250 or where necessary E600. The third range is based on Hauraton's RECYFIX® PRO channel made from 100% recycled polypropylene. These have a 20mm galvanised housing allowing Class C250 covers to be fitted. Weighing less than 25kg the PRO channels are suitable where easy handling is desirable.
With SUPER and KS models, the ductile iron covers are securely located into the housings by the company's SIDELOCK fixing system. To access the cables, covers are easily removed using a large screwdriver at the appropriate leverage points. In practice, the SIDELOCK system has proved to be 90% quicker than any other fixing method available. Where necessary, covers can be bolted down. PRO models have bolt down covers as standard.
The popular nominal widths offered with Hauraton Service Channels are 200mm and 300mm. These models incorporate a perforated steel galvanised cable tray that is suspended within the channel keeping the cables clear of any water that may access the channel. The water can then be safely drained away.
Tim Connolly, Managing Director at Hauraton explains, "Our Company have gained invaluable expertise supplying Service Channels in to numerous buildings and venues including prestigious stadiums in many parts of the world. Architects, main contractors and ground-workers can request a hard copy of our new brochure illustrating the full range of channels by telephoning: +44 (0)1582 501380. A PDF version is also available via: www.hauraton.co.uk."
For Case Studies featuring many Hauraton drainage products go to:
www.drainage-projects.co.uk