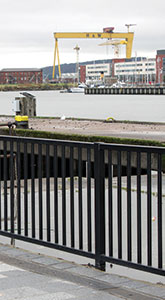 The City Quays development, currently under construction, is a £250 million investment to regenerate 20 acres of unused dockland in Belfast City Centre. The development will eventually include 'Grade A' office space, residential blocks, leisure facilities, a large hotel and retail complex all with designated car-parking. Once complete it is planned the City Quays project will achieve a BREEAM Excellent standard, one of the highest sustainability rating for new developments.
At about 250 metres long, the new City Quays promenade is laid with a two tone granite block pavement which is drained with 230 metres of Hauraton RECYFIX® PLUS 200 channels fitted with Class D400, HEELSAFE ductile iron gratings.
The RECYFIX® PLUS channel unit is made of tough, virtually unbreakable recycled polypropylene (PP) formulated to be very resistant to daily temperature fluctuations from frost conditions to strong sunlight, including the Ultra Violet (UV) spectrum.
The channel unit also features galvanised steel top edges which house the ductile iron gratings.
Complying with the requirements of EN 1433, the PP is given its UV resistance by adding just sufficient carbon black as a stabiliser so that the structural strength of the material is unaffected and a consistent appearance is maintained. The PP is also naturally resistant to de-icing salt.
Andy Beirne, Area Project Manager for Hauraton Limited was please the project went so smoothly, "The channels were delivered to site with their gratings factory fitted, yet as each one metre unit weighed less than 25kg ground-workers Earney Contracts Limited found them easy to handle and install. As with all Hauraton surface water drainage channels, the performance of the RECYFIX® PLUS range complies with European Standards (hENs) and carries the CE mark".
Technical information for all the RECYFIX® ranges, showing sizing and installation details, is available digitally on www.hauraton.co.uk. – LANDSCAPING tab, as is a video "Why is RECYFIX® break-proof".
For case studies go to www.drainage-projects.co.uk.