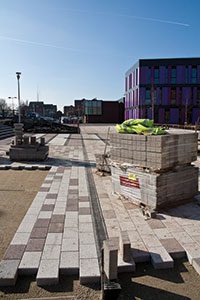 The new Oldham Academy North, designed by architectural practice Aedas Architects, is a spacious and colourful three storey building set in sensitively landscaped grounds. With the site being quite flat, and the building surrounded by paved and asphalted surfaces, it was essential rainwater is drained effectively.
A Hauraton RECYFIX® PRO 100 channel system, fitted with FIBRETEC® C250, 9mm slot gratings, was used by groundwork sub-contractor Westoak Construction to drain the paved playgrounds and asphalted car parks. The channels were also installed along parts the building's façade and across entrance doors to facilitate drainage.
The FIBRETEC® C250 HEELSAFE slot grating was specifically designed by Hauraton R&D engineers to enhance the flow of water into the channel. The slots are super smooth, elliptical openings with the moulded bars having slightly raised triangular bosses along their outside edges. As well as providing an elegant appearance, the feature ensures surface water is directed into the slots. This configuration also helps eliminate any cross-flow over the grating.
The RECYFIX® channel component is made from 100% recycled PE-PP. The six sizes offered are 160mm wide and range in height from 75mm to 201mm with the FIBRETEC® grating factory fitted on all models. As the largest unit is only 4.6kg, RECYFIX PRO channelling is easily handle and quickly installed on-site.
Ian Burton, Hauraton's Project Engineer comments, "Light and dark grey granite paving blocks were used extensively to achieve a pleasing aesthetic appearance to the hard landscaping immediately surrounding the Academy buildings. Being particularly suitable for school yards and playgrounds, our RECYFIX® PRO channels' with their black FIBRETEC® gratings' were chosen for this project as the grating's smooth appearance blended in well with the desired design effect."
Contact
T +44 (0)1582 501380
www.hauraton.co.uk
www.drainage-projects.co.uk