Davison Forklift was founded by John Davison in the mid-sixties, John grew frustrated at being unable to find a suitable forklift for his plating business, Ablow Pating. Through his frustration, John tasked himself with finding a suitable forklift solution and thus, the company grew under John's guidance and became Davison Forklift Ltd in 1976.
With an impressive wealth of industry expertise, echoed throughout the company's over 40 years of production, Davison Forklift Ltd has established itself as a trusted company and partner for the materials handling sector. "We offer machines that are from world-leading manufacturers and pride ourselves on our level of service." Adrian stated.
Operating extensively within the vicinity of the West Midlands area of the UK, Davison Forklift is ideally situated at the heart of England and provides its services in areas including Wolverhampton, Telford, Birmingham and Coventry.
Maintaining a formidable team comprised of fully trained forklift engineers, Davison Forklift's team are highly skilled and provide servicing, reconditioning, repairs to machines and spare parts, at its extensive on-site facilities featuring its fully equipped workshop in Wolverhampton.
Offering unrivalled services' in terms of quality and customer satisfaction, Davison Forklift strives to provide a comprehensive service for its customers, specialising in the hire and sales of forklift trucks. "We are a forklift hire business." Adrian continued, "But we also offer sales of new and used machines, and a full range service and maintenance services. Davison Forklift offers forklifts for all applications with rough terrain and we have telehandler options from our dealership with Ausa."
Davison Forklift is an official UK distributor for Clark, Haulotte, Ausa ans Hako "Being predominately a forklift supplier, our target customer base covers all sectors that lift anything from pallets to machinery and all our suppliers are constantly updating their product ranges." Adrian continued, "The Hako Cleaning Machines and Haulotte Access Equipment are the most recent additions to our product offer."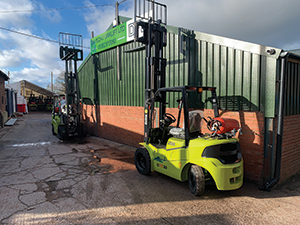 The Hako range of cleaning machines and Haulotte Access Equipment are an amazing range of products consisting of Hako's: City Sweepers, Pedestrian Scrubber Dries, Pedestrian Sweepers, Ride on Scrubbers Driers and Ride on Sweeper. The Haulotte Access Equipment provides an equally diverse and innovative product range including: Articulating Booms, Push-Arounds, Scissor Lifts, Telehandlers, Telescopic Booms and Vertical Masts.
Alongside its extensive ever-expanding range of stocked products, Davison Forklift is dedicated to supplying a prompt, reliable and most importantly, helpful service for its customers.
Matched with its large selection of machines and spare parts, Davison Forklift Ltd can provide its customers with a forklift package and solution to meet all of their forklift requirements and provides finance deals to suit all budgets.
Undeniably, there have been many challenges for companies regarding the COVID-19 pandemic and the on-going effects inflicted on all the industry sectors from enduring the strains of lockdowns', furlough schemes and closing or slowing down of their production/operations. "During the initial lockdown we did see a downturn in business," Adrian continued, "but from July 2019, the market improved dramatically and since then we have seen month on month growth in hires and sales. The second-hand market is particularly buoyant."
A testimony to its clear devotion to its services and customers, Davison Forklift has bounced back from the first lockdown and its future seems bright, noticing a dramatic improvement and a growing dominant presence in the hire and sale of forklifts.
Speaking of the company's future plans, Adrian told us of a couple of new additions for the company and there overall plan to continue to provide its exceptional services." We have recently moved to our new facility in Shropshire and we are increasing our product portfolio to include Telehandlers and Tractors."
For any further information on the company, please see the details below. Alternatively, give them a call on the number stated.
Contact
T 01902 420123
www.davison-forklift.co.uk