With an impressive combination of technical innovation, cost effectiveness and high performance characteristics, Bond It is one of the UK's fastest growing manufacturers of building chemicals for the building trade and home improvement sector. The company is one of few manufacturers to offer such a comprehensive range in this area, which includes silicones, adhesives, water-based & solvent-based products, liquids, tapes, cements and much more.
Quality is guaranteed across this portfolio, with close supplier partnerships and links to major multi-national chemical companies. Bond It also has a high presence in the export market, supplying products across the globe, meaning its products have also been listed by some of the biggest retailers in the world.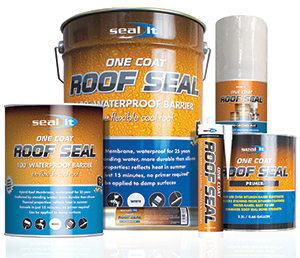 Thanks to its close working relationship with a hybrid polymer manufacturer, Bond It has recently developed a new innovative roofing membrane for the roofing market. Seal It One Coat Roof Membrane is an easy to apply one coat liquid membrane offering a modern alternative to traditional GRP, PU, silicone and bitumen roof coatings. It is a highly reflective, solvent-free, non-flammable liquid coating formulated for professional roofing applications and requires no special training to apply.
In addition to being used on its own, the membrane can also be used with a primer, accelerator, reinforcement mat, and edging and crack sealer, making it an ideal solution for more demanding situations. Altogether, the system delivers a high performance, watertight, permanently flexible and extremely durable barrier coating for all existing roof substrates, which is guaranteed for 25 years.
In September, Bond It also launched Reload, its new 'green' silicone system to help those in the building industry reduce their environmental impact. Of course, the need to be more sustainable and conscious of the environment and our climate has never been stronger. This is why Bond It's Reload range of silicones employs a unique reusable design to help minimise waste to landfill by encasing the silicone in an aluminium foil. In addition, both the cartridge and nozzle are completely recyclable, while the Reload's reusable nature reduces the amount of material requiring disposal.
This ongoing product development is in spite of the tumultuous year it has been due to COVID-19. Despite the global restrictions and shut downs, Bond It has continued to progress. "We did have to furlough a number of our staff but our sales didn't falter. We ended up having to employ a further six people in our production and warehousing departments due to increased demand and had to bring everyone back by the end of April," said David Moore, Managing Director. "We saw a switch in demand for product lines during the pandemic thanks to the upturn in DIY work, so our products for decorating and gardening chemicals suddenly went through the roof. This thankfully meant our sales have not been dramatically affected, and figures show we actually surpassed July's sales this year vs. 2019.
"It's uncertain times for all of us in manufacturing at the moment – no one knows how things will pan out. COVID-19 did open up other avenues though and led us to develop a range of sanitisers as well as supplying social distancing tape. We've actively picked up the reins again and are continually striving to improve products as well as investing in our new product development programme."
It has certainly been a challenging few months, however Bond It remains in a strong and promising position as it looks to the future. To find out more information on its entire range and latest news, head to the website or get in touch.
Contact
T 01422 315300
sales@bond-it.co.uk
www.bond-it.co.uk