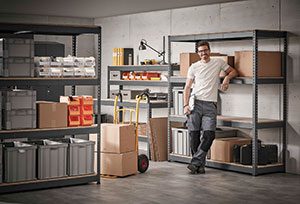 Based in Farnborough, Hampshire, with its Head Office in Sweden, AJ Products UK LTD offer ergonomically designed furniture and equipment for offices around the UK and Europe. The company was founded by Anders Johansson, specialising in the manufacturer of workplace furniture. Since their inception, they have grown at an unprecedented rate and today are present in over 20 countries.
AJ Products boasts a diverse selection of products for any type of company in the UK market. Providing exceptionally crafted furniture and products for the workplace, AJ Products are perfect whether for use in the Office, Warehouse or across various Industries.
In addition, they produce utility specific furniture for use in Changing Rooms, Canteens, Schools and the Education sector. They also offer racking, shelving, goods moving equipment and thousands of other product lines. Better yet, AJ Products offer a free of charge space planning and design service, helping customers come to the best layout solution for their space.
Bringing a touch of Swedish design to their products, AJ Product's diverse range has a unique and modern twist. With a key focus on making British business take action on making their workplaces a healthier place to be and ensuring that they look after their staff, AJ Products have just launched a series of new inventive sit stand products to help tackle the immobility of desk type work and help workplaces be more healthy and proactive in their regards to the wellbeing of their staff.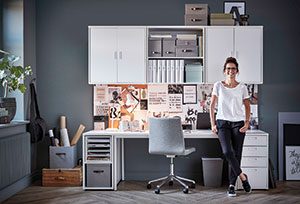 Based on research papers from Educational Faculties and Governments, standing at work has been linked to a reduced risk in the employee's chance of getting Type 2 Diabetes, Heart Problems and Musculoskeletal problems. According to this research, not getting enough exercise through sedentary jobs can lead to numerous health issues. In fact, statistics have shown that 15 million work days were lost in the UK in 2017 alone, just in relation to back problems. The inventive sit stand products effectively tackle the immobility of desk type work and help workplaces become healthier and more productive. The range also includes products such as height adjustable desks, anti-fatigue mats and active seating. Through their attentive customer service, AJ Products aim to provide a healthier work service to all offices, and by encouraging a proactive approach to reducing health issues, their sit stand products are proving to better the mobility in all industries involving desk based and sedentary work.
A new feature of their ergonomic sit stand product range is a specially designed meeting table. This electronic sit stand desk enables companies to host standing meetings where everyone in attendance can comfortably stand instead of sit. It has shown to result in more productive and healthier meetings, compared to sitting in the wrong position for a period of time and becoming listless from so much sitting. Accompanied by their anti-fatigue mats and active seating, this innovative meeting table compliments the sit stand furniture ensemble. For this issue, we got in contact with the UK Managing Director for AJ Products, David English, who explained, "AJ Products will continue to expand on its 15,000 products to ensure we continue being a one stop shop for our clients. We will strive to passionately push for a healthier workplace by utilising sit stand desks, active seating and matting."
'Surprisingly More' is the company's ethos and demonstrates their vast range of products, as well as reflecting how there is always something more to offer which can benefit users in more ways than one! It comes as no surprise that in Sweden, they are known as the 'happy company' which is a credit to their vision of making people and employees as happy and as healthy as possible whilst at work, a job which the AJ Products team is more than happy to do!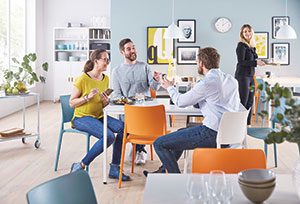 In addition, AJ Products also provide a fast and free delivery service and constantly stay on top of the furnishings market to ensure their quality products are offered at the right price. Over the decades, AJ Products have managed to maintain their status as a leading mail order and web company for the very best ergonomic office furniture, materials handling and storage solutions.
Along with selling their products to both big and small corporate clients in all market sectors, they are sure that within their catalogue and website, there is something for every business. With continued growth and expansion in the last 12 months, across all divisions and markets, AJ Products creates the best possible customer service through their products range, selection, and variety available.
For any further information or to contact AJ Products UK Ltd, please get in contact using the details below or feel free to visit the website.
T +44 (0)1252 359760
www.ajproducts.co.uk