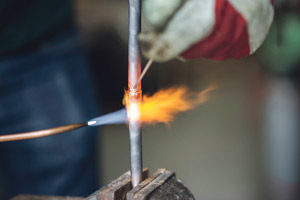 Within this issue of Building and Construction Review, we have chosen to recommend leading UK training company Sanctus Training Limited for its advanced array of training courses.
Sanctus Training is an approved training provider, with a number of Awarding Body Accreditations that maintains a selection of comprehensive training course including: Health and Safety, Professional Development, Asbestos, Utilities, Heating, Ventilation, Air-conditioning and Refrigeration. Sanctus Training is part of the Sanctus Group which includes its sister company Sanctus Ltd – a specialist in contaminated land remediation. Developing significantly since the company's inception in 1998, Sanctus Training has gained unprecedented growth and expanded its services, courses and facilities.
"We started with one Trainer, now we have 25. We have moved several times, each time going into bigger premises. We have two training centres where we can cover a large range of courses." Tina Smith, Business Manager.
Sanctus Training maintains a state-of-the-art Head Office in Quedgeley, Gloucester and a Practical Centre situated in Cam, near Dursley. Sanctus Training is also able to offer training at its customer's premises or chosen venue, if appropriate.
As an approved City & Guilds Centre, the company is able to provide courses and Diplomas/NVQ'S in heating, ventilation, air-conditioning and refrigeration (HVACR).
A feat within the courses available as a City & Guilds Centre is the City & Guilds 2079-11 Safe Handling of Refrigerant and BRA FETA course. The course is the perfect tool for industry workers looking to gain the relevant skills and knowledge for a career in the refrigeration, air-conditioning or heat pump industries. Consisting of a theoretical, practical and multiple choice exams; the course is a great investment for workers to gain, refresh and advance their skillset.
Another noteworthy course that Sanctus Training provides is its Mental Health First Aid (MFHA) (England) course. Providing vital skills, knowledge and understanding for people and workers who work with adults experiencing mental health issues; the course covers a selection of training which is aimed at helping the trainee recognise and respond accordingly, to any symptoms of mental health issues. The course is split into four manageable parts including: depression and what is mental health, substance misuse, anxiety disorders, self-harm, eating and personality disorders, psychosis and building a healthy community for all.
In terms of the future plans for the company, Tina expressed that Sanctus Training plans to, "Expand the range of courses we offer, including our Asbestos courses."
T 01453 828 555