Established in 1998 and now in its 20th year, Ecomerchant is a popular and successful independent employee-owned business that supplies building materials to the trade.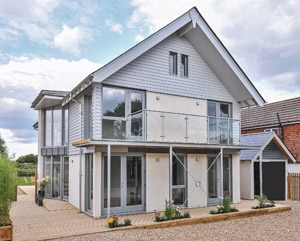 Based on the core values of ethical trading, healthy materials and sustainability, Ecomerchant have built up an excellent reputation as a provider of reliable and proven construction as well as offering a quality alternative to existing materials.
Higher levels of sustainability are most commonly found away from the large-scale developer market with customers who have a specific need or desire to build to more exacting performance standards and where quality and durability are important. Typically Ecomerchant's customer base look for higher levels of performance, reduced environmental impact, improved occupant comfort and health and lower operating costs. Many of Ecomerchant's customers are in the self-build and custom build market, with increasing demand from local developers, regional builders, social housing, and the health and education sectors. These are the sectors that will drive change and raise standards in UK construction, not by regulation and compliance but by a desire to build to higher standards, this is where some of the best examples of genuinely sustainable construction can be found.
To meet this demand, Ecomerchant supply a vast range of products and materials including, insulation, airtightness, sheathing and sarking boards, timber windows & doors, lime and clay plasters and renders, natural paints, renewable energy products, water saving and off-grid systems, groundwork and landscaping materials and so much more all chosen to help create healthier and more energy efficient homes, schools and workplaces.
Over the past few years, Ecomerchant has seen an increase in the demand for natural alternatives to many building materials, many natural materials outperform their modern synthetic alternatives but without the unwanted environmental consequences. Ecomerchant has developed a range of solutions and products offering higher energy performance and building efficiency with minimal impact on the environment.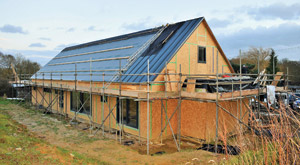 All Ecomerchant's products are chosen for their ability to eliminate, reduce or significantly improve environmental performance, improve building health and reduce running costs. New products are always being added with continuing focus on innovative and low impact materials to customers with a better way to build.
Ecomerchant carries large stocks of materials and covers the whole of the UK form a number of warehouse locations. Over the last few years focus has been on developing the e-commerce side of the business which has been driven by customer demand. With over half their sales generated by users on tablets or mobiles via their website, Ecomerchant has helped customers by matching their needs for a responsive and flexible approach to ordering building materials. In addition, there is a wealth of news, informative articles, videos and technical information hosted on the website plus regular newsletters to keep subscribers up to speed on building materials and practices.
Visit Ecomerchant's website to see more; many products are available to buy online. Ecomerchant's knowledgeable and helpful staff will be happy price your enquiry, answer technical questions, take orders or provide quotations.
Services and products
Insulation, wood fibre insulation boards and batts, sheep's wool & cellulose
Internal wall insulation
External wall insulation
Boards & sheet materials
Roofing materials
Paints & timber protection
Airtightness membranes tapes & accessories
Lime Plasters, mortars, renders, putties & paints
Lime floor screeds
Roof Lights & Sunpipes
Steel Guttering
Rainwater harvesting
Sewage Treatment
Erosion control & water management
Natural landscaping geotextiles & weed control
Natural cleaning products.
T +44 (0)1793 847444
info@ecomerchant.co.uk
www.ecomerchant.co.uk