Here at Building and Construction Review we would like to announce the winner of our Building Products and Services Award goes to Allerton Bradley Limited.
Allerton Construction Limited was established in 1974 by Jon Allerton. The aim of the company was to provide specialist and cost-effective solutions for all sewage treatment systems. In 2019, Jason Bradley and Jon Allerton merged and formed Allerton Bradley Limited to ensure the continuation of the company for the next 40 years.
Allerton Bradley Limited is a premier off-mains drainage company which provides sales, servicing, commissioning and repairs of all types of septic tanks, sewage treatment plants, sewage pump stations and drainage fields. The company displays a wealth of experience through its continuous success. Renowned as a specialist in sewage treatment systems, pump stations and septic tank conversions, we caught up with Nathan Chambers, Sales & Marketing to find out more.
Nathan stated that, "Allerton Bradley has been trading for over 45 years and deals with all things 'off-mains drainage'. Everything from installations of new treatment plants for domestic or commercial properties, down to servicing of all types of sewage treatment systems."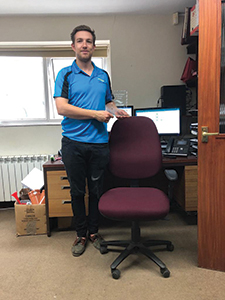 With expertise in five main areas, Allerton Bradley Limited is able to provide a bespoke sewage treatment solution for every specific requirement. The company is based in Sleaford, Lincolnshire, but has customers up and down the country from Winchester to Northallerton. Its areas of expertise cover servicing and maintenance, sewage treatment systems, pump stations and other relatable products, septic tank soakaway and ground water tubes.
One of its latest, most innovative products is the Allerton ConSept. This provides the ideal solution for your septic tank conversion. The Allerton ConSept will convert any existing septic tank or cesspool into a fully functional sewage treatment system which then produces a final effluent that can be discharged into a watercourse or soakaway. The use of this product utilises your existing septic tank so there is no need to install a heavy plant or new tank. Its easy to install, saves time and money with little disruption.
"The Allerton ConSept septic tank conversion unit is a bespoke product that is designed and manufactured in our site in Sleaford. These, alongside a permit from the EA, can be used to discharge treated effluent to a watercourse or into the ground via a drainage field, making systems now compliant with the General Binding Rules. These offer a lower cost alternative to a new installation and also can be used in situations with limited access." Said Nathan.
The Environment Agency (the EA) is looking to tighten up restrictions on septic tanks and discharges to surface water or ground. The General Binding Rules have come into force for many properties with septic tanks and the systems must be updated or replaced to meet the regulations. Nathan expanded, "There are several options available and if you had any queries Allerton would be happy to help you, feel free to get in touch. We are regularly inspecting sites to check if they meet regulations and quoting for ways to make them suitable. There is also further information available on our website."
Like many others, Allerton Bradley Limited felt the strains of COVID-19, however maintaining its 100% commitment and loyalty to its customers was of the utmost importance. Adding minor tweaks and changes to the manufacturing process and overall business structure, Allerton Bradley Limited found a way to work through such an unprecedented year.
Nathan explained, "The last 12 months have been a success for Allerton despite the unprecedented year we have had. While at times we have had to work long days, especially through the wet few months we have had, the Allerton team have pulled through as always, leaving our customers happy. We look forward to what the next 12 months have to bring."
Every customer is of vital importance to Allerton Bradley Limited which is why every requirement is handled in a friendly and professional manner. No problem is too big or too small for a team who hold over 46 years of sewage treatment experience between them. Its bespoke service is second to none and the company takes complete pride in the quality of the equipment that it supplies.
Recent success has allowed the team to expand, heightening the level of expertise and experience to an already professionally qualified workforce. Here's what Nathan had to say, "2021 has seen the expansion of the Allerton workforce, welcoming Rob in the office, Stu and Pete in the servicing team and Allan in the installation team. We are very excited to have them on board."
Nathan expanded on the company's future plans, "We are continuously looking to expand and broaden our catchment area for servicing and installations of treatment systems. We hope to develop our new members of staff and invest in training to make the team the best in the business while not losing focus on our longstanding loyal customers."
For more information, please see below.
T 01529 305 757
www.allertonuk.com