Global Survey Equipment (GSE) was established in 2011 by Mark Owen and Matthew McGuire, expanding significantly since, the company is constantly growing within the survey and safety sector of the construction industry. Based in Atherton, Greater Manchester. GSE is ideally located in the heart of the North West of England enabling the company to have access to extensive motorway networks and delivering the most efficient delivery service possible for their customers.
GSE's four main areas of services which they provide are: hire, sales, repair and calibration although they also provide instrument and cable location training.
GSE offers a broad range of products which incorporates the latest technology. The survey equipment the company supplies is extensive and covers all aspects of the surveying process. GSE offers everything from auto levels to robotic instruments & GNSS most of which are under the manufacturing brand of GeoMax (part of the Hexagon group).
The Zoom 95 is the ultimate one-man system with up to 20% more automation performance and extended reflectorless measurement capability. Add to this the X-pad ultimate field software which is entirely user focused and adopts an ideal balance between clear structure, uncomplicated workflows and impressive functionality.
GeoMax Zoom 95 is a further developed total station from its predecessor the Zoom 90. The Zoom 95 now has a larger onboard screen, higher performing processor of the TPS with an internal memory of 2GB loading of site data onboard is considerably improved and onboard functionality all makes for better workflow. With a range of rugged Android tablets available, be it customer preference of device or advise from Technical support X-Pad Ultimate is the Field software best suited to the Survey and Construction Industry.
GSE also presents a range of detection devices, including Cable Avoidance solutions, Environment Meters, Drain Cameras and Gas detection. The company also provides a half day training course on the intricacies of cable avoidance. Environment Meters include Light Meters, Moisture Meters, Sound Meters, Thermometers and Air Flow Meters and Gas Detection solutions.
In terms of its calibration, servicing and repair services, the company provides a full instrument calibration, alongside servicing and repairs on all surveying and confined space safety equipment. The service technicians at GSE are trained and fully compliant to the highest standards, undertaking regular professional training.
Along with detection and survey equipment, GSE supplies reliable and durable health and safety equipment for confined space entry and working at heights. GSE has your health and safety concerns covered, with all products complying with legislative regulations, you can be sure that you're in safe hands when calling on GSE to secure the safety of your work site.
In terms of recent developments, GSE is pleased to have successfully delivered a range of Geomax survey instruments to Wigan & Leigh College to further bolster the GeoMax range of Total Stations they had previously acquired. This new equipment aims to support the T Levels in Construction (Design, Surveying and Planning) courses available at Wigan & Leigh College. Working alongside Martin Gilmore and his department on ways to further enhance the survey aspect of the curriculum, Global Survey Equipment was able to supply 3no GeoMax Robotic Total Stations, 3no Zenith 16UHF Smart rovers, 9no Android Tablets supporting X-Pad Ultimate Field software, Zone 20 Rotating Laser, Geomax Office Fusion Software and a Leica BLK360 Scanner.
The Android Field Controllers running Xpad Ultimate will allow the students to work in small groups preparing drawings, code lists etc in the classroom. With the flexibility of also having multiple instrument profiles within Xpad Ultimate, a group can work using either a smart rover or Total Station while carrying out practical lectures, making best use of conventional 2 Man Total Stations, Robotic Total Stations and Zenith16UHF GPS Smart rover (which can also be setup using a Base and Rover scenario).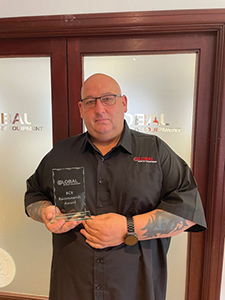 "We would like to thank Wigan and Leigh College and University Centre in allowing Global Survey Equipment to work alongside and support them and we look forward to assisting Martin Gilmore in the next academic year for the Technical Training on the Survey kit and software purchased." Added Mark Owen, Director.
As the company looks towards its future, GSE plans to further enhance its reputation and position within the Hire industry, continuing the working relationships that they have with its trusted and valued customers. Another venture for the company will be to look at expanding further within in the educational sector.
Mark expanded, "With our recent supply of Survey Kit to Wigan and Leigh College, we are looking at working closely within the education sector offering technical support and ongoing demonstrations to students under the guidance of Senior Lecturers within the classroom environment and practical works outside. Being given this opportunity to show the next generation of Surveyors and Civil Engineers the latest in modern survey technologies is something we have worked on over recent years and was how we anticipated on building the Companies profile across the board."
For any more information, please see the details featured below.
Contact
T 01942 896244
www.globalsurveyequipment.com