Kedel Limited, a family-owned business, was established in January 2010 and named after the three brothers who started it – Kieran, Dermot and Lewis Walch. They wanted to make sustainable living more attractive and easier for people to incorporate into their personal and working environments.
Their building and construction products are all made from recycled plastics, enabling the trade to reduce their carbon footprint. All Kedel's products are ethically sourced with a view to create infinite sustainability with minimal environmental impact.
"We don't use plastic waste imported from Asia due to the increased carbon footprint of long-distance transportation. The UK is our main source of recycled material plus a little from Europe where sorting of recycled plastic is better handled. We ask suppliers for traceability of the bulk materials that go into our products to ensure we are being as green as possible," says Dermot Walch, Managing Director.
The company stock thousands of eco-friendly building materials catered to an array of industry sectors. Their products are the ideal replacement for wood for building and construction, fencing and gates, landscaping and gardening, agriculture, parks and leisure, schools and colleges, gardening, street furniture and more.
Products include recycled plastic decking, fencing, cladding, outdoor furniture and profiles suitable for just about any application. Current popular items during the Covid lockdown have been outdoor leisure equipment – park benches and picnic tables. With more people spending time in the garden there has been a deluge of orders for garden tables and benches, planters and raised beds.
The hospitality, education and leisure industries such as pubs, restaurants and schools, are taking the opportunity to upgrade their outdoor facilities, so demand for recycled plastic outdoor seating has experienced extraordinary growth. "We normally experience 40% growth each year but demand for benches and picnic tables is up 300% from last year," says Dermot.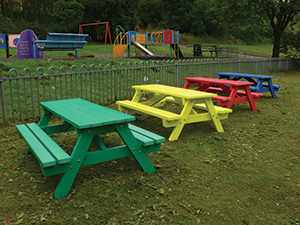 As well as its retail website, Kedel Limited has trade and education specific websites. The education sector who are informing our children about the need to recycle and us of Kedel's recycled plastic products show that they practice what they preach.
In addition, recycled plastic outdoor furniture is particularly attractive to local authorities and PTA's as a long term sustainable investment that only needs purchasing once in a lifetime.
In their first year of business Kedel produced over 30 new recycled plastic products for schools and colleges that were show cased in the Galt Catalogue widely used for sourcing by education department purchasers. Boasting a range of bright colours and designs, there is an extensive range of school benches, picnic tables and nursery equipment. These can all be found can be found at www.kedeleducation.co.uk.
"We have supplied some of the biggest construction projects in the UK including the Archellor Mital Olympic Tower project in London. They used our recycled plastic decking specifically to reduce the carbon footprint of the build. Partnering with commercial and construction companies ensures their projects stand the test of time with no ongoing cost of ownership, no maintenance," explains Dermot.
To open a Kedel trade account, you can fill in an application online here or browse the website at www.recycledplasticbuildingmaterials.co.uk
"Almost anything you can do in construction with wood or metal; you can do with recycled plastic." states Kedel MD, Dermot Walch. "And if you need something bespoke our inhouse design team can certainly help."
KEY BENEFITS OF USING RECYCLED PLASTIC INSTEAD OF WOOD.
No absorption of water – easy to clean with normal household cleaning products.
UV protected against fading – colour added during manufacture – no painting necessary
Can be produced in all sizes and bespoke shapes
Extremely durable – lasts a lifetime.
No maintenance – recycled plastic never rots – zero cost of ownership.
100% recycled and recyclable – low carbon footprint – keeps plastic waste out of landfill and incinerators.
Initial installation costs recouped in as little as 5-7 years.
'Just do it once', is a phrase that captures the heart of Kedel's philosophy. And with a recent increase in the cost and reduced availability of wood more companies are looking to the use of plastic for their constructional needs.
When asked about future plans Dermot replied: "We are coming under increased pressure to produce more which is both exciting as it is stressful, but we are adapting quickly to this demand with changed shift patterns, additional staff and more investment in machinery.
"This exponential growth has given the entire team a massive boost in morale. We have seen so many new opportunities opening up to develop partnerships for a sustainable future and we are delighted to be a part of that."
Kedel received the 'Best Recycled Plastic Product Award' at the MRW National Recycling Awards in London in 2015, and they haven't been dragging their feet since then. You can be sure that Kedel's Recycled Plastic Products are of the finest quality and produced in the most sustainable way and will increase the green credentials of any construction project.
T 01282 861325
sales@kedel.co.uk
www.kedel.co.uk