In this issue of Building and Construction Review, we are pleased to announce that we have selected LS Products BV as the recipient of our Commitment to Landscaping Services Award.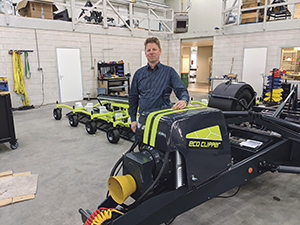 LS Products was established in 2018 by Syb Leijenaar as a response to a market demand for an upgraded and improved version of the then current 15 year old electrically driven rotary mowers. With the experience of many years of use in many different countries, LS Products BV manufactured a new line of electric mowers by the name Eco Clipper®. The Eco Clipper® Mowing System evolved from the mowing system that was originally developed in the nineties on the turfgrass farm of the Leijenaar family in the Netherlands and was launched in 2002.
Leijenaar Products BV have developed and marketed the Eco Clipper® range into a global success. Since, it has been introduced to turfgrass farms across Europe, and was extended in 2020 with the introduction of the 14, 11 meter wide Eco Clipper® RM14 butterfly mower and Eco Clipper® TM14 tri-deck mower.
"Our Eco Clipper® electric mowers are sold in the UK by Vanmac Ltd and are quite unique. The system was originally developed to replace the cylinder mower. We liked the cutting quality of the cylinder mower, but we did not like the high maintenance costs and the sensitivity. Our Eco Clipper® mowing system comes close to the cutting quality of the cylinder mower, requires low maintenance and can be used in wet grass if necessary. Furthermore, the mowing speed can be higher than most other mowers. In practice, this means that mowing costs can be halved quite easily," said Syb.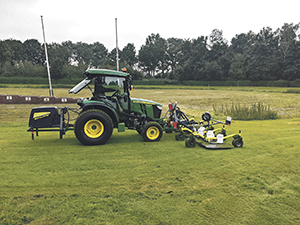 LS Products BV is dedicated to offering the best mowing system for the maintenance of large areas of turfgrass. Eco Clipper® offers a mowing system with many advantages over traditional cylinder and rotary mowers. The technical design of the Eco Clipper® delivers a clean cut, even clippings dispersion and excellent following of the ground contours with minimal soil compaction. As well as performing well on wet grass, Eco Clipper® has the capabilities for its mowing system to be scheduled to follow the growth of the grass. This means control over the number of clippings that are produced each mowing cycle, avoiding the need to remove excess clippings and to grow a strong root base over a shorter time.
The design of the Eco Clipper® range boasts effective economic advantages as well as very little maintenance. The Eco Clipper range includes 10 mowers that are perfect for maintaining large lawns such as sporting fields, parks and race courses. Each offer various specifications but are congruent in being able to provide a good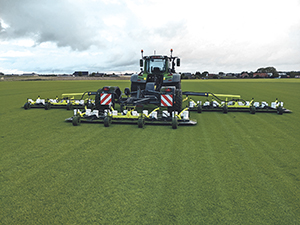 quality cut. The Eco Clipper® Mowing System consists of independently suspended 106cm wide deck sections. These sections are cleverly linked together in larger, but flexible contour following mowing decks. Each deck section has three fast spinning blades combined with a smooth bottom and large tires. The electric power train has a high efficiency and is maintenance free, and as it is important to keep the blades sharp for a quality cut, greasing is minimised to once a month leading to a highly economical mower.
Each mower can be configured to specific requirements, for example the decks can be attached to different frames, carried or towed. A front mower can be made up of a single deck consisting of two to six sections, a towed mower can consist of 10 to 14 sections wide – built out of three separate decks, and a carried rear mower combined with a front mower can be between
10 to 14 sections wide.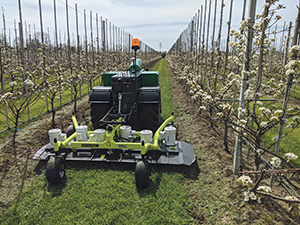 Its innovations are well-received from customers all over the world, who have remarked the Eco Clipper® range as a sterling success. One customer stated, "The new flexible-decks make for a completely different mowing result compared to the old, fixed decks. Now we have virtually no scalping, just a nice green cut." Feedback such as this reflects the high level of service LS products BV delivers to its customers and how important they are in the continuation of producing and improving the range.
This year, to accommodate growth, LS products BV has recently moved to a new building. This move will not only help them to produce more efficiently, but also to have more control over the quality of production. "We believe we have a good future in the UK with our range of electric mowers. We believe we provide excellence by offering the right mower for the right job and deliver a high-quality aftercare service that ensures the mowers longevity."
For more information, please see below:
T +31 (0)646753560
info@ecoclipper.com
www.ecoclipper.com