Margaret Reid Display Solutions, MRDS Ltd is a supplier of high quality retail and commercial display equipment for an array of industries. With its factory based in the Cotswolds, Gloucestershire, MRDS specialises in manufacturing bespoke stands, boards and cradles created primarily in MDF. Also, MRDS is proud to be able to offer a sheet material cutting service, both straight cut pieces on its beam saw and shaped, on its routers.
Established in 2017 by Margaret Reid, MRDS is a testament to Margaret's extensive experience working as an agent for companies supplying display materials for over 26 years.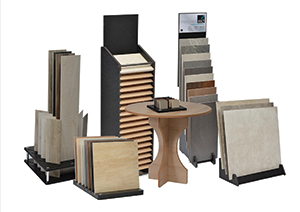 "I started the company in February 2017." Margaret expanded, "I was an agent for a company that made display products for 20 years. Once that company had decided to close, I decided to set up my own factory."
MRDS has also been collaborating with Insca, Spain enabling MRDS to supply a wide range of leading names in the Tile industry for their showrooms. "I am an agent for one of the world's leading manufacturers of showroom stands which is a company called Insca." Margaret expanded, "I've been working with them for 15 years plus which has enabled me to be able to provide a full portfolio of display products for customers."
With advanced knowledge on display materials including showroom stands, boards and cradles, MRDS is well equipped to provide solutions for customers looking for the best way to display their products. Providing its products for a multitude of different industries, MRDS takes pride in producing high quality display products and ensuring its customers products benefit fully from its service.
"The core of our business is supplying display boards and stands for the ceramic floor industry." Margaret continued, "We also supply other industries including recently when we supplied wooden components for an eco-friendly coffin manufacturer."
One of the main benefits of MRDS is its extensive design capabilities. Alongside its reputable portfolio of products, MRDS is able to customise products to meet specifications of its clients. Using the company's CNC controlled equipment, MRDS can create tailor-made products and is able to customise products with branding, graphics and colour of customer's choice. The company also provides a bespoke service for customers requiring a custom built product. "We also offer a bespoke service, we design and develop the product with our customer to create a prototype for them. It's a very personal service and our team is extremely knowledgeable with years of experience behind them to help assist our customers." Margaret said.
In addition to its display solutions, MRDS also maintains and provides its machinery for customers, to offer sheet material cutting services.
In regards to the on-going COVID-19 Pandemic, we asked Margaret about how the impact of the pandemic has affected MRDS and its industry. She told us that, "We have been very fortunate to be able to continue trading during the pandemic and we have even been able to explore new avenues of business and broadened into different industries. During the pandemic we have also manufactured COVID-19 signage for social distancing."
With a strong focus on providing high quality products to showcase its customs products, MRDS maintains a strong emphasis on constant development and pushing the boundaries of what they produce by primarily focusing on: the development of new display stands, improving its board range and researching into new types of finish.
In terms of specific future plans for the company, MRDS has many exciting new developments currently planned to help the company broaden its industry range and provide solutions for more customers and markets.
"We are currently working on a range of counter top shelving displays and a range of clipboards." Margaret continued. "In January we will also be launching an ecommerce website which will enable us to be able to sell products through the website! This is something that we are very excited about and we are looking forward to the new opportunities it may bring!"
For any further information on the company, please see the details featured below
Contact
T 01453 835555
www.mrdsltd.co.uk