Within this issue of Building and Construction Review we have chosen Dallmer, an industry leader in drainage design, to receive our Commitment to Excellence Award, for their innovative drainage system designs.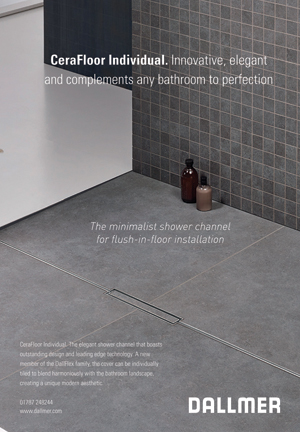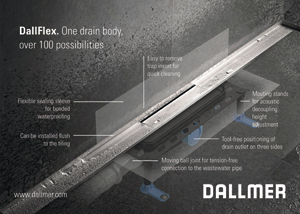 Dallmer is a leading German manufacturing company that was first established in 1913 in Arnsberg, Germany. Starting out, Dallmer was originally created as an engraving company, and since then Dallmer has re-established itself into a high quality, premium architectural brand for building drainage systems.
Since the company's inception in 1913, Dallmer has expanded significantly throughout the company's impressive 100 years in business, and is currently a fourth generation family owned business. Dallmer has gained global recognition for their state of the art drainage systems and products, and is present in over 30 countries. Dallmer also maintains a UK based office in Lavenham, Suffolk.
Expanding their global network and brand awareness has been of the utmost importance to Dallmer and the company is dedicated to providing designs to meet the modern trends of today in an effort to stay ahead of the competition. The uniqueness of Dallmer's drainage systems is their luxurious quality, made to enhance a bathroom or room, as a standout feature to add ambience to a room or as a discrete drainage system. Dallmer tailors their drainage system to meet the requirements of their customers.
Through precise German engineering, Dallmer manufactures an expansive range of drainage solutions such as linear drainage, floor drains, bathroom and shower drains, roof and balcony drainage, basement drainage, parking deck, channel drains and yard drains and hoppers. Within Dallmer's diverse range of drainage options, Dallmer handles all things drainage related including seals and closures, soundproofing, fire and sound insulation systems and barrier-free bathrooms. Dallmer also provides drainage systems to support the drainage needs throughout the whole house and not just the bathroom. A notable feat that Dallmer offers with their products is their 10 year warranty which is available on all of Dallmer's products.
In terms of quality, Dallmer combines three different aspects into the manufacturing and design process. First, Dallmer sources only the highest quality materials for their products. Second, Dallmer assesses and creates the most practical functional drainage solution through their designs and thirdly, Dallmer designs cutting edge premium designs by the company's in-house team of top design experts.
In addition to their products, Dallmer offers a range of services and assists their customers throughout the whole process of drainage system selection. Offering services from the design stage up to completion of service, Dallmer looks after the customer throughout the whole process.
In terms of recent developments, Dallmer has launched its CeraFloor and CeraFrame Individual Shower Channels. Expertly designed and crafted, the shower channels offer a minimalist aesthetically pleasing design for customers, enabling them to add a modern feature to their bathroom. Providing customers with choices such as matching the cover of the drain to the flooring or tiles, the shower channels give users the option to tailor their bathroom to the design they desire and are available in a selection of materials including steel matt, anthracite, rose gold and brass.
Another recent development for Dallmer has been the company's venture into data collection and providing Building Information Modular (BIM) data on the company's products. A great tool which is useful for architects and planners, BIM data enables users to use software combined with BIM data to provide a three-dimensional digital replica/model of a planned building.
The technological advancements that this data contains provide an in-depth analysis of a planned building and allow users to gain a virtual examination of the design, to help them make design decisions from the data. Using the data gathered on Dallmer's drainage systems, architects and planners can analyse a variety of options for their drainage systems. By taking into account information provided by the BIM data such as installation cost, fire protection and functionality, the BIM data allows its users to make informed decisions on their drainage system options and assists architects and planners to evaluate the most efficient drainage system option for the planned build.
For any further information on Dallmer or to view their extensive range of drainage systems and solutions, please see the details featured below. Alternatively, to speak to a member of staff directly, please call them on the number featured below.
Contact
T 01787 248244
www.dallmer.de