In 2003, after discovering the anti-microbial properties of silver, joint founder Leigh Simpson had an idea that would potentially relieve the growing problem of hospital acquired infections caused by antibiotic resistant bacteria. Leigh knew that if he used the same anti-microbial technology found in silver on the surface of low surface temperature radiator guards and LST radiators it could have the potential to not only create better hygiene in the healthcare market, but to save millions of pounds for the NHS every year.
After approaching BioCote®, a market leading antimicrobial technology supplier who at the time had recently developed a new powder coating which included silver and was proven to reduce bacteria by up to 99.9%, a long-standing relationship was born between them. Contour is currently the exclusive licensee of this technology for LST and anti-ligature radiators and guards in the UK.
Based in the West Midlands, Contour's services spread nationwide. Through its exclusive two main product lines: Low surface temperature and anti-ligature, Contour provides safe heating solutions for both the private and public sectors. "We provide a vast range of radiator guards, light switch covers and pipe boxing, essentially everything that can help protect people in environments such as hospitals, mental health units, schools, nurseries, care homes and more. The healthcare industry is a huge portion to what we do in providing safer heating solutions to NHS hospitals and trusts," stated Robin Mansell, Contour's Commercial Director.
As specialists in low surface temperature radiator technology, Contour design, manufacture and install an extensive range of innovative fabricated building solutions. This service is supported by Contour's passion and philosophy to always put the customer first, ensuring them that each product is made in Britain.
There are many unrivalled benefits to Contour's product range, all of which are applicable and relevant to a number of sectors. Robin mentioned some key notes, "we are the only radiator cover company that can fully lower the guard flat to the floor without the need to take the door off. Furthermore, we are also the only radiator cover manufacturer that can prove we reduce levels of bacteria on our covers by over 97%. Our anti-microbial partner BioCote® carry out regular testing of our coatings to ensure the process is still up to standard and is still effective."
One of Contour's notable new ranges is the new Covora Lite range. Manufactured in the UK Covora Lite is a cost-effective LST radiator suited for classrooms and student accommodation refurbishments. Available with BioCote® coating as standard for complete antimicrobial protection and comes in over 200 sizes across single convector, double panel plus and double convector emitter models. Fitted with bullnose corners and half bullnose edges on the cover increases the products strength and reduces the risk of injury in the event of a fall against the cover.
The Covora Lite has a much faster lead time than other Contour products and is easy to use with an external TRV head for remote adjustment. The radiator cover is polyester powder coated to an average thickness of 60 microns internally and externally and comes in RAL 9003 white as standard. The radiator cover is also supplied as a one-piece unit complete with prefabricated cut-outs for external valve heads.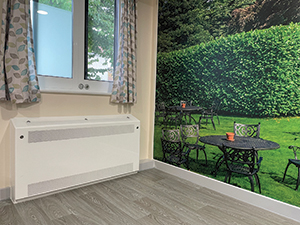 The overall design is aesthetically pleasing and more robust than its predecessors from the strengthening ridges on the front of the cover. As the ventilation grilles are narrow, they are therefore easier to clean and maintain, stopping objects such as pencils and small items from being inserted through the grilles causing potential damage. Manufactured from 1.2mm Zintec steel, they are available in a wide range of RAL colours allowing them to seamlessly blend into the design of any environment. The Covora Lite range is set to be extremely popular, combining the expertise and industry leading technology of both Contour and BioCote® for the most affordable safer heating solution. Contour is soon to begin marketing the new range alongside its newly published 2022 product brochure containing over 100 pages of LST and anti-ligature products.
Offering complete versatility across a number of environments, Contour products can be installed across all sectors. With the recent effect of COVID-19 putting increasing pressure on the NHS and the entire healthcare sector, it has naturally caused people to consider hygiene in a different way. "All our radiator and guard products contain a technology called BioCote® in the coating. This technology combats harmful microbes such as E. coli and MRSA. This became hugely beneficial to many customers during and following COVID-19," said Robin.
With many successful years behind it and many more ahead, Robin explained what further products are on the horizon, "as well as our new Covora Lite range, we are also launching a new range of free standing and bench radiators which are suited to office buildings and can even be used in more of a domestic setting. We will continue using our innovative technology to create and add new heating products to our portfolio, and as demand grows, we plan to also build our sales team to better serve our customers."
T 01952 290498
sales@contourheating.co.uk
www.contourheating.co.uk