Building and Construction Review is pleased to announce Pictorial Meadows as our Landscaping Company of the Year.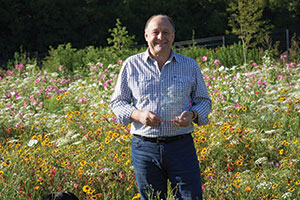 Over the last 20 years, Pictorial Meadows has been on an unwavering mission to beautify the nation, blanketing both rural and city landscapes in bright mosaics of petal and stem. Initially established by Professor Nigel Dunnett as a research project orchestrated by the University of Sheffield, Pictorial Meadows has outgrown its roots and sown its seeds nationwide, succeeding persistently in bringing about radical yet aesthetically pleasing change to otherwise bland landscapes.
Over the last 12 months, the company has seen its success grow astronomically. Despite doubts looming over whether or not wild flowers would sustain their popularity among the ever distracted 21st century population, Pictorial Meadows has defied the odds and proves evergreen in its popularity. Horticultural interest, it seems, is on the rise, and given the increasing global, governmental and public focus being directed towards the importance of nurturing our environment, companies like Pictorial Meadows are vital. When you think of meadows and horticulture, it's unlikely the word innovation is what springs to mind. However, Pictorial Meadows are proving to those less versed in the workings of the natural world that innovation can indeed be applied to the field as well as the office. This is evident in the company's introduction of PM Turf. Developed to offer customers a platform upon which to enjoy the benefits of the company's perennials seed mix, the turf consists of 100% meadow plantlets. The substrate used in the turf enables total consistency as the plant life grows, making for a beautifully even finish.
This year, Pictorial Meadows has embarked on an ambitious three year project working with Solihull Metropolitan Council. The project will see the company supply over 30,000 square metres of its award-winning PM Turf to Solihull in an effort to add a new dimension of floral colour and biodiversity to the area. This comes as a hopeful endeavour, as councils nationwide face budgetary constraints and political turbulence. However, the benefits of adding urban meadowland to cityscapes and densely populated areas stretch beyond the realms of financial or visible achievement. With Pictorial Meadows' turf, weeding requirements commonly associated with perennial seeds are eradicated, adding another floor to the skyscraper of benefits that Pictorial Meadows' products bring to the table.
Looking to the future, Pictorial Meadows has plans as large as the fields within which its seeds are sown. The company has recently broadened its horizons and spread its services to the European market. Despite various questions being raised over Brexit and the various obstacles it may or may not impose, Pictorial Meadows is committed to offering its services to an ever wider demographic. If more companies were as creative, environmentally minded and attentive to the needs of their customers as Pictorial Meadows is, you might find the world a more colourful place. To find out more, see the details below.
T 01142 677628
www.pictorialmeadows.co.uk