Within this issue of Building and Construction Review, we are proud to announce that we have selected leading supplier of hire and sale GEDA construction hoists and transport equipment Direct Hoist as the recipient of our Building Excellence Award.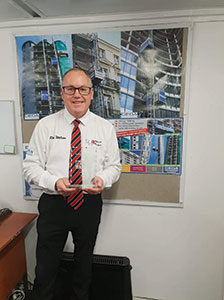 Direct Hoist specialises in GEDA construction hoists and transport platforms, providing the best quality, efficient and reliable hoist equipment for the construction industry. Direct Hoist has over 30 years of experience working within the industry and has built a strong reputation as experts in hire and sales of GEDA hoists and associated products.
Direct Hoist maintains a specialist team of fully trained hoist experts and time-served tradesmen; the team provides customers with not only top quality products but also expert services and valued insight through tailored consultancy. Direct Hoist provides a full comprehensive service from start to finish, which includes on-site surveys, installation, maintenance and repairs, dismantling and weight testing services.
"We gather as much information as possible on our client's project and we participate in on-site surveys. We ensure that we provide our client with the best hoist solution for their hoist requirements," said Managing Director, Rob Wilson.
Based in the East Midlands, Direct Hoist has gained unprecedented growth and success since the company's inception in 2014. We had the pleasure of speaking with Managing Director, Rob Wilson about how the last 12 months has been for the company, he told us that, "In the last 12 months we have seen rapid growth on a major scale. Since the company started, we have expanded significantly to meet the demand of the market and our clients. We now have a team of 10 of us and we utilise our staff, promoting staff in-house and ensuring we get the right people for job. We want to encourage our team, as our best asset is our workforce."
Within the construction industry, health and safety is of paramount importance, without the right safety measures and equipment efficiency, lives can be in danger. Direct Hoist does not cut corners on safety and provides only the best quality construction hoists. By using GEDA, Direct Hoist ensures that they are providing the most reliable, top quality equipment as GEDA are manufactured through traditional German manufacturing practices of competence.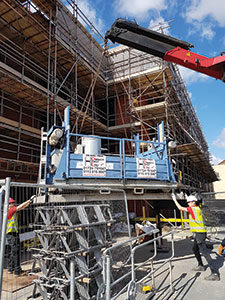 Through the company's emphasis on providing the best equipment possible, Direct Hoist also ensures that their team are the best and are fully qualified, investing within their team to provide specialist training programmes. In fact, all hoist installation supervisors at Direct Hoist have been trained to achieve a minimum of an NVQ Level 2 Diploma in hoist installation. They also ensure that their team are all SSSTS certified, own a valid CSCS card and carry current CCNSG safety passports.
The company also boasts an expansive range of accreditation. Direct Hoist is a member of CPA (Construction Plant hire Association), CHIG (Construction Hoist Interest Group) and CITB (Construction Industry Training Board), and the company is also fully accredited with Constructionline.
In terms of the hoist equipment range that Direct Hoist provides, the company maintains a varied selection of GEDA Hoists, from small to large with load capacities ranging from 150kg to 3700kg. "Our hoists are modern and lightweight; they are also extremely cost-effective for the customer." Rob continued, "As the hoists do not require a concrete base or embedment frame, they save the customer money. The hoists are made to benefit the customer and help speed up the construction process and improve productivity." Direct Hoist also maintains a fleet of hoists available to hire including: scaffold erection hoists, goods hoist, transport platforms, inclined tile hoists and XL hoists. Through Direct Hoist's impressive leading manufacturer contacts, the company guarantees to supply their customers with the most efficient equipment for their needs.
In terms of the future for Direct Hoist, Rob told us that, "We will always strive to be the number one hoist company in the UK. We do have plans to expand our market presence, expanding into the south and midlands. Since we started we have moved locations three times, to expand and grow with our customers and hopefully this continues."
Speaking with Rob Wilson about how the company feels upon receiving this award, he told us that, "We are very honoured, this is the first award that we have received and it's positive to receive the recognition!"
For any more information please see the details below.
T 01724 781647
info@directhoist.co.uk
www.directhoist.co.uk