Clima-Tech was founded in 2015 by Ashley and Franki Shemmings. What started off as a maintenance and servicing company, soon evolved into a specialist, multi-faceted service with a proven track record in the electrical, refrigeration, domestic, and commercial sectors.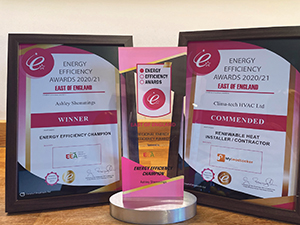 As a well trusted and well-established brand name in the renewable energy field, Clima-Tech specialises in providing
a range of core services including:
MCS certified and trust mark approved installers
Heat pump design, maintenance, supply, install and commission
Heating systems
Electrical system design and installation
f-gas related work
System commissioning
Air conditioning specification – design, install, servicing and maintenance
Solar PV specification, design, installation, repair and maintenance
Underfloor Heating and Plumbing works
HVAC engineers
Approved installers of the new boiler upgrade scheme (BUS).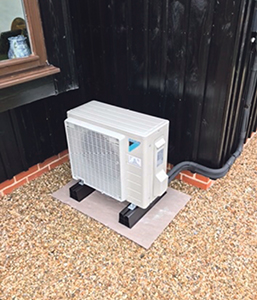 A notable highlight for Clima-Tech is the number of industry related awards it has received and been recognised for. In 2019, Clima-Tech was commended second place at the national renewable heat installer and contractor of the year awards, in 2020/21 was announced as the East of England Energy Efficient Champion, and in the same year received commendation placing third at the national renewable heat installer contractor of the year awards.
Its services are held in high regard amongst many other industry professionals as well as its customers, who because of the service they receive, remain with the company for many years. One customer boasted, "I cannot praise the service and expertise of Clima-Tech high enough. I tell everyone who comes to look at our air to water heat pump installation 'This is the company to deal with! I called in Clima-Tech and met Ashley Shemmings and I knew that his company understood what was needed and would deliver it. The workmanship in the external 'boiler house' is most impressive. We are delighted with the selected equipment and the highly professional installation."
Clima-Tech has many qualifications to its name including Microgeneration Certification Scheme (MCS), Renewable Energy Consumer Code (RECC), IWA, and REFCOM. Furthermore, Ashley has trained to the highest level, holding qualifications such as City and guilds 2360 NICEIC certified, City and guilds F-GAS, B-PEC G3 unvented, B-PEC Heat pump design, and B-PEC water regulation.
Clima-Tech is hands on and works closely with its clients to ensure that the best service is delivered. Focussing heavily on the renewables sector, Clima-Tech holds vast eco-friendly benefits for its customers, highlighting the importance of going green to save money.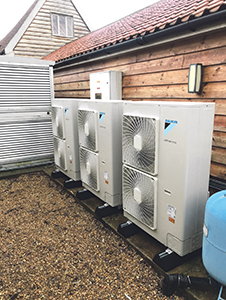 In recent news, Clima-Tech is excited to be a part of the latest government grant scheme. "Starting in April 2022, the government has announced a 'Boiler Upgrade Scheme' (BUS) to which we are now part of. The BUS scheme has replaced the Domestic Renewable Heat Incentive (RHI) that ended on the 31st of March 2022," stated Franki. The new grant will encourage property owners to install low carbon heating systems such as heat pumps, through BUS. These grants are designed to help property owners overcome the upfront costs of low carbon heating technologies and will be open to domestic and small non-domestic properties in England and Wales from April 2022 to 2025.
Boosting a homes green credentials can help to improve overall cost savings for both homeowners and landlords. With this in mind the government has a Green Homes Grant Scheme that offers funding to help pay for the cost of energy savings measures. Clima-Tech fully supports this grant scheme and through its skill set and experience can help make homes warmer and more energy efficient for the end user. One way to which it delivers this is by offering a flexible and cost-effective heat pump system installation, designed to save the end user money whilst requiring minimal maintenance. Each heat pump can be designed and installed to fit all requirements, whether that be in a commercial or domestic environment.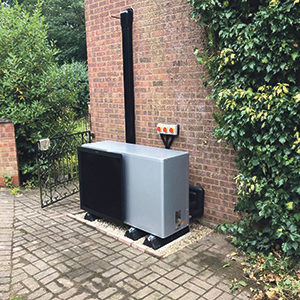 Based in Earl Soham, Suffolk, Clima-tech is a family run business that over the years has integrated a company ethos of 'doing it the right way.' By always going the extra mile for its customers it can deliver a service that is of the highest quality. Ashley has over 20 years' experience in the industry as a fully qualified engineer and has all the capabilities to complete the installation of air conditioning, electrical and heat pump systems. No matter the size of the job, Clima-Tech can design and install from start to finish bespoke systems to meet your needs. All installations include warranty and aftercare services to give you peace of mind.
If you're interested in these services, Clima-Tech can design and survey a completely bespoke system to meet your exact requirements that is competitively priced meaning you only pay for what you need with a free no obligation quotation.
Find out more below:
T 01728 684437
ashley@clima-techservices.co.uk
www.clima-techservices.co.uk