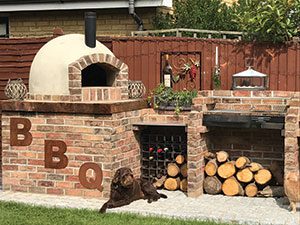 Pizza Oven Supplies is managed by husband and wife team Nick and Sam Riley. With 25 years' experience in the building trade, Nick began making wood burning ovens five years ago, before creating the business a year later.
He decided he wanted to learn how to make these ovens and began researching the best materials and methods to do so. Nick eventually discovered that Stoke-on-Trent, where the company is based, had been building bottle kilns for years, and a wood burning oven is a type of bottle kiln. After experimenting with different mixes, he managed to build a successful oven and decided to create a mould for his finished design. This led to him developing a website, and he began travelling up and down the country building wood burning ovens for various customers.
As the business grew, he decided to put all his knowledge into creating kits for people to build the ovens themselves, or have them built by someone with more experience. These kits come with pre-cut bricks, along with drawings and in depth instructions to help designers, builders and DIYers. As well as the kits, Nick offers expert advice every step of the way, so customers can be confident that they will be happy with the finished product.
We spoke to Nick about his unique services and products: "The kits we sell contain all of the materials, instructions and drawings you need in order to build your own wood burning oven. All of our materials are recycled from the pottery industry, which keeps costs down whilst still using high quality refractory materials. Furthermore, all of our ovens are 100mm thick, which creates a more substantial oven and therefore more value for money."
Their most popular oven is the Milan 750, an ideal domestic oven which can still be used in commercial projects. This easily cooks two 10 inch pizzas at a time, and the user can build their own design around it. Pizza Oven Supplies will soon be releasing the Tuscan 650, which is designed to be built and be ready for use on the same day.
Pizza Oven Supplies have recently opened a showroom and moved into a larger factory. This means they can boost their output to keep up with the ever increasing demand for their oven kits. They are constantly developing new ovens and designs, and creating new moulds in order to reduce production time yet maintain the high quality of their products. For more information, head to their website, or use the contact details below.
T +44 (0)1782 212777
info@pizzaovensupplies.co.uk
www.pizzaovensupplies.co.uk