The team at Mood Interiors have been developing and designing bespoke homes in the Care sector for over 15 years.
Through their unique experiences, the duo Preet & Bal launched a Boutique Interior Design firm primarily, into the specialist sectors, which enables both design and functionality to harmonise within the healthcare environment.
At Mood Interiors' the knowledge of the specialist sector, the vision of Interior spaces and passion for design allows ease of communication, between clients and the Mood team. They have a portfolio of projects to demonstrate, the high-end, quality schemes already executed & delivered to various Care settings.
Residential Care, Extra Care, Supported Living and Specific Needs including Autism, Dementia and Disability; Mood Interiors are devoted to bringing a fresh, inviting and homely feel to the Care sector. The team are focussed on challenging the institutional norms of yesterday through luxury durable fabrics, furniture and accessories all suitable for the Care environment.
Mood Interiors' understanding of the nee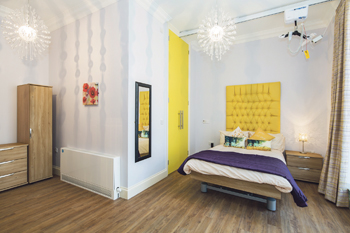 ds of those in Care is built from invaluable experience. Whether it is Autism or complex needs, they strongly believe that introducing design schemes with specific colours, textures and products can help enable people and deliver on positive outcomes.
Mood Interiors is excited about finally maximising the potential which you can achieve within your industry through Interior Design.
For further information or general enquiries, please visit the Mood Interiors website. Alternatively, you can contact the company via telephone or email.
T: +44 (0)121 706 5395
info@moodinteriors.net
www.moodinteriors.net