Vision Development was established in 2011 by Tim and Jane Karpinski along with their daughter, Lucy Karpinski. The family run business offers a range of energy efficient timber frame systems, designed and manufactured under one roof. As manufacturers, the company maintains its own factory facility in Berkshire, meaning the quality control of workmanship and materials, is guaranteed.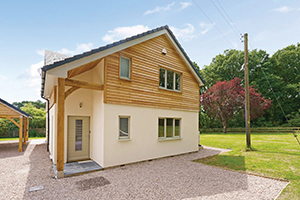 "We are a timber frame specialist offering timber frame panel systems for new builds, extensions and commercial builds. Our services include, supply and installation of the timber frame structures, supply only so the client can arrange the installation or we offer a design and build service, where we take care of the complete construction process from start to finish," stated Lucy Karpinski, Company Director.
Vision Development is committed to customer service, working in collaboration with each client to provide a perfectly tailored quotation which is right first time. By working closely with its clients, the company ensures its timber frame systems are designed to meet each individual project requirements.
Vision Development benefits from its own manufacturing facility, which enables the company with the ability to offer its customers visits to view their new home while it's in production, as well as local projects which the company has completed.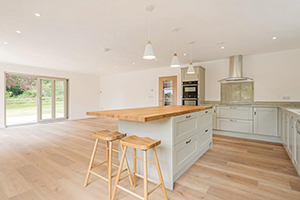 "Our timber frame products are designed to meet each individual project requirements, they can be adapted to suit our customers U Values, budget and timescales. We provide a tailored fixed-price quotation rather than a budget estimate, which other timber frame suppliers offer."
Lucy continued, "Vision not only offer timber frame packages solely, but also additional construction services to provide our customers with a weathered shell so they can complete the internal works at their own pace, in the dry. These include groundworks, windows & doors, roof tiling, external brickwork, cladding or render."
One of its most notable services is Vision Development's popular bungalow conversion service. After the reform of the planning laws in 2020, bungalows can now be extended upwards using a fast-tracked planning process.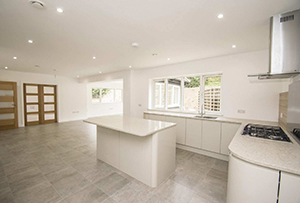 "Ever popular bungalow conversions are our speciality. We have completed many bungalow transformations, bringing a new lease of life to an existing bungalow with the addition of a new first floor timber frame structure. Creating additional space and value," added Lucy.
Vision Development has undergone some significant recent developments including expanding its manufacturing space, to accommodate a larger factory facility to increase its timber frame manufacturing capacity. "This has also enabled us to hold more materials so we can keep ever increasing materials costs at a more reasonable level for our customers," added Lucy.
In other recent news, Vision Development was able to continue working through the COVID-19 pandemic, keeping the factory moving to ensure it met its customers delivery targets. The company initially faced challenges with longer lead times due to reduced shipments to the UK from Europe, but Vision Development responded efficiently and continued to provide the timber frame structures it had been contracted to do, within budget and to the original timescales.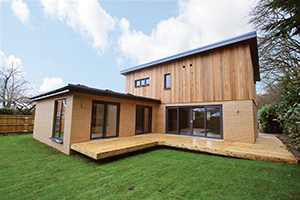 As Vision Development looks ahead, the family manged company hopes to continue providing a personal service to its customers, tailored to individual's needs. Lucy expanded, "We also plan to undertake more of our own developments, building new homes with unique characteristics that can't be found in large new build developments, each detail is thought through by ourselves, choosing fixtures, fittings and finishes that are in keeping with the surroundings whilst also attractive and functional."
For more information or to view Vision Development's services and latest projects, please see the details featured below:
T 0118 9712181
www.timber-frame-suppliers.co.uk
https://www.timber-frame-suppliers.co.uk?utm_source=buildingandconstruction&utm_medium=editorial&utm_id=may22