Structural steel is one of the most widely used building materials in the construction industry. With its predictable behaviour and stern structure, it is not only reliable it is also 100% recyclable allowing for multiple reuses and a long-life span.
Structural Steel Buildings was established in 2019 by Stephen Heath, who has over 30 years' experience in the steel framework and cladding industries. From the creation of a new storage bay right through to a large warehouse, Structural Steel Buildings build to the customers exact requirements.
Based in Stoke-on-Trent, Structural Steel Buildings services stretch nationwide to a multitude of sectors. As specialists in the construction and cladding industries, the company also caters to industrial and agricultural markets – however, these services are offered on a much broader scale to include demolition over clad, strip and re-sheet.
Within the agricultural market, Structural Steel Buildings provide a vast range of buildings from grain stores, lambing sheds, hay barns and pig sheds. The option of refurbishment is available for this market and can be anything replacing a roof light to a strip and re-sheet.
Structural Steel Buildings is SMSTS qualified in project management and all its operatives have the relevant qualifications. The company offers all aspects of a new build including design and build for the industrial market. Again, refurbishment is also available as a service from strip and re-sheet to asbestos removal, building extensions and much more.
The company started with one goal in mind, to offer an affordable option to the build of standard buildings. With over 30 years' of experience in the industry, Structural Steel Buildings includes all safety measures as part of the installation quote. Its employees are professional, experienced and qualified to carry out specific services asked of by the customer.
From garages, workshops and storage sheds, Structural Steel Buildings offer cold rolled steel framed buildings which are designed by experts and constructed to the highest standards. The cold rolled steel framed buildings come with the option of a range of box profile cladding and can come insulated or single skinned. For larger buildings exceeding six-meter eaves height, the company use hot rolled steel with a variation of box profile cladding.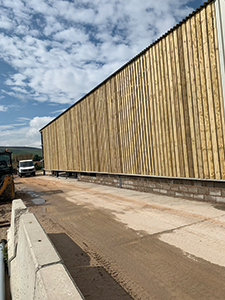 By offering a competitive price range on all its services, Structural Steel Buildings is able to compete fairly against competition. Its customers are always at the forefront and are partly responsible for the early success Structural Steel Buildings has had so far.
A full turnkey service is one of the most popular offerings by Structural Steel Buildings. Overseeing everything from base slab to the erecting and cladding of the building, Structural Steel Buildings offer a supply only package with a step-by-step instruction guide catered solely to each customers individual requirements.
But why choose Structural Steel Buildings?
By having experts in the field, which combined have many years' experience, its bespoke builds are made with the utmost due care and attention using the highest quality steel. Each option of build comes with a vast range of additional services to create the ideal, personalised package which is delivered in the most cost-effective way, saving the customer time and money. Additional services can be added, for example fountains can be a great addition to accompany any building. All services come with a full management service, creating a safe and secure environment for the customer.
In more recent times, when asked what affects COVID-19 has had on the business, Stephen answered, "Surprisingly, COVID-19 has had an adverse effect on the business. As people have not been able to go out, more of the general public have turned to their own properties for personal renovations or building work which we have been able to supply and help with."
As well as receiving more custom from domestic customers, Structural Steel Buildings has had the pleasure to have worked with the National Health Service to provide instant erections of temporary building and fixings in and around hospital environments. "We have done a lot of work for hospitals. From cladding to erecting temporary operating theatres that we have set up in hospital carparks, it has been an honour to use our expertise to help out during the pandemic." States Stephen.
Emphasising its successful emergence into the domestic industry, Structural Steel Buildings now offer the erection of garage workshops from start to finish. Adding to its already sterling repertoire, Structural Steel Buildings has the expertise and the equipment to supply a brand-new garage created with a bespoke design package unique to the customer's needs. More information on this service will be available soon on the company website.
Whether you have specifics in mind or you're working from a blank canvas, Structural Steel Buildings will help and guide you through the beginning to the end of the build. By using only, the finest quality materials, combined with the wealth of experience within the company, each engineer ensures a completely bespoke package you can rely on.
For more information, see below.
T 07488 378802
T 07488 378818
stephenssb13@outlook.com
www.structuralsteelbuildings.co.uk