Castle Steel Buildings is a design and supply company specialising in the supply of hot and cold formed steel buildings. As experienced distributors and installers, Castle Steel Buildings will organise the design, supply and erection of a bespoke steel building, controlling the project from start to finish.
Castle Steel Buildings design, supply and install steel buildings across the country for any application from domestic garages and garden sheds to leisure facilities, industrial, commercials, agricultural and equestrian applications. With a keen focus on providing exceptional service as its first priority, Castle Steel Buildings understand the importance of a personalised service and as a result is committed to ensuring every customer receives exemplary service and 100% satisfaction.
"Like most companies in our sector, we offer a pretty wide range of types of buildings from domestic garages up to industrial storage and warehouses. There isn't really a niche within that, we sell on value and customer experience. Our knowledgeable designers and installation teams work hard to make sure the customer gets the best service first time, every time," stated John Rosling, Director.
Castle Steel Buildings was established in 2017 by David O'Brien and John Rosling. Previously David had worked in the steel erection industry and John in management for both the public and private sectors. Both bring an offering to the company that has helped establish its early success over the last few years. Castle Steel Buildings is based in Doncaster, South Yorkshire, ideally placed on the edge of the A1 and M18 within striking distance of the M1, enabling easy access for a national reach.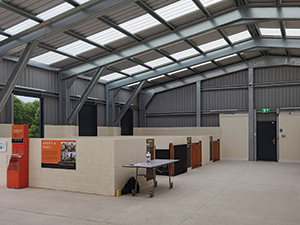 Operating within the construction industry can make for a very competitive environment, John explained what makes Castle Steel Buildings different. "We pride ourselves on a number of differences between ourselves and our nearest competitors. Primarily, most of our competitors fall short on the supply or the installation. We have dedicated teams on both sides of that particular fence with an experienced and highly capable installation team backed up by a qualified and effective office and design team who know the buildings as well as the builders that put them up. That liaison between the design and supply side and the installers makes for a smooth ride for customers. We also offer finance for our business customers (subject to checks) which can help them plan and commit to growth plans while managing their cashflow. This is almost unique in our industry – none of our other competitors offer it so it puts us ahead of the game in that respect."
Supporting the best of British, Castle Steel Buildings are British made with a full manufacturer's warranty up to 35 years. All its materials comply with British Standards BS 6399(pt 2) and exceed ISO9001-200 which clients can be assured their buildings will be designed to withstand any challenging climate.
Offering a great deal of versatility, Castle Steel Buildings services can be catered to a range of industries and sectors. "Our target varies depending on the season and our particular marketing objectives in any given cycle. We've spent a considerable amount of time this year focussing on the agricultural sector such as farm sheds, storage, hay barns and more. We're looking at shifting our focus to industrial units and warehousing over the winter and into 2022," stated John.
With a recent expansion within the office and installation team, Castle Steel Buildings are increasing its workforce to manage current customer demand post COVID-19 circumstances.
"COVID-19 has presented some challenges, but we've used it as an opportunity to review what we do well and could do better. There are limitations to what we can and can't control as COVID-19 and also Brexit have massively affected the prices of steel and haulage. The steel markets in the Far East shut down in response to COVID-19 which meant pretty much the entire globe has destocked of certain materials. That impacted material prices and once the supply ran dry there were shortages. Our delivery turnaround jumped from 3-4 weeks to 22 weeks at one point. Currently we're looking at roughly an 8-week turnaround from order and prices have stabilised," said John.
Moving forward, Castle Steel Buildings is keen to continue its planned growth in terms of turnover and reach. "We're looking to refine our operations back office and within the teams to increase our responsiveness and effectiveness," stated John.
Relishing an approach that boasts affordability, versatility and quality, Castle Steel Buildings is an industry leader in all agricultural, industrial, commercial and domestic markets. In just four years, Castle Steel Buildings has grown significantly, and its success is embellished through its hard-work, exemplary customer service and its ability to adapt to an ever-changing industry.
Contact
T 01302 301402
info@csbuildings.co.uk
www.csbuildings.co.uk