Since 1985, Spiral UK has established itself as the UK's leading specialist staircase manufacturer. Originally set up to produce concrete spiral staircases, the company's depth of knowledge, expertise and experience in spiral staircase design and spiral staircase installation has since expanded into other forms of bespoke staircases using materials such as steel, glass, wood and stone.
Founded by father and son Buzz and Eric Nicholls, the employment of CEO Andrew Holland in 2015 became a landmark in the vast growth of the business. Today, Eric is front of house managing sales and still shares his expertise directly with clients, whilst Andrew runs the operations.
The Cornwall based bespoke staircase specialists believe in delivering a totally bespoke service that is people-based as well as product based. "We try to keep everything in house, so we have full control over the process to ensure there are no unnecessary delays or unexpected obstacles," said Eric. Offering an unrivalled service with years of experience and expertise under its belt, Spiral UK is happy to work with seasoned professionals as well as first time buyers looking to build their dream home. Its hands on approach ensures each customer's requirements are met, and individual designs exceed initial expectations.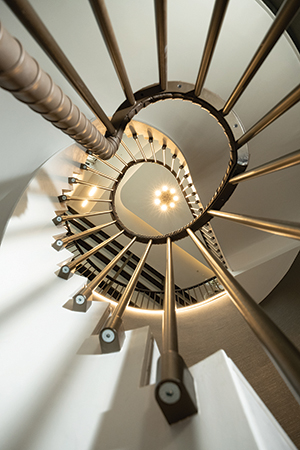 However, Spiral UK doesn't just do spirals. Everything from the initial quote to the design, manufacture and installation can be completely customisable and tailored to any requirement. With over 30 years' experience in the industry offering unrivalled expertise, Spiral UK can cater to any project across a range of spaces from restaurants, shops, museums, schools and more.
"Our expertise and experience allow for even the trickiest of designs and we ensure each design is fully compliant with UK building regulations. Our design engineers have the capabilities to design, manufacture and install any less-than-straightforward staircase that requires a little more thought and skilled engineering such as steel, glass or concrete spirals, helicals, curved, dog-leg, floating and cantilever," stated Eric.
Spiral UK's services stretch nationwide and are available online or in person. If a face-to-face meeting is not possible, Spiral UK can organise a bespoke staircase CPD service online at the company's convenience. Conducted via presentation through Zoom, Microsoft Teams or Google platforms, "we exclusively offer a free service that explains our bespoke stair designs, building regulations, and manufacturing and installation processes," said Eric.
Over the years, Spiral UK has grown alongside its customer base and now operates in four distinctly separate markets, as Katie Chown Marketing Manager explained. "We design, manufacture and install bespoke luxury staircases for four main audiences. We create centrepiece stairs for domestic properties, these can be refurbs or new builds and made from steel, concrete, clad or almost any material the budget allows for. Our designs include anything from simple handrails to full curved glass balustrading. The main bulk of our clients are construction companies and fit out interior designers. For these clients, we are usually employed to create large- and small-scale stairs for all manner of commercial applications from office refits to grand stadium projects – we're currently working on projects for the new Swansea Arena and The Royal Albert Hall. Lastly, we have vast specialist experience of creating compliant external fire escapes for all applications and have worked a lot for the MoD on their accommodation blocks on base."
In recent developments, Spiral UK has introduced QStairs which alongside Spiral UK, is a separate online company set up to cater for high quality 'off-the-shelf' options. QStairs is essentially a self-install stair kit that offers a cost-effective alternative to using a bespoke staircase service. "QStairs are designed to be fitted by the purchaser/ their builder. We have used our many years of experience and expertise from our inhouse designers to come up with a millimetre perfect ordering system for a kit of parts to build your own galvanised or powder coated spiral staircase up to four metres high," said Katie. QStairs gives customers in the building trade the option to purchase the same high quality produced by Spiral UK but at a more affordable price. Offering a straightforward installation process and a finished product that is robust and durable, further designs are already in the pipeline as it sets out to be a revolutionary product within the industry.
With future plans to heavily invest in the marketing and development of QStairs, Spiral UK is taking each step at a time to ensure a continuous steady growth. With the current economy being difficult to navigate, Spiral UK's approach to continued success is measured and tactical. "We were lucky that construction continued during COVID-19 but that's not to say that things didn't get difficult. Commercial contract opportunities slowed, and competition increased, however, we're in a good position to continue our usual high standards for the foreseeable," stated Katie.
Spiral UK has an abundance of knowledge and expertise at its fingertips, from design engineers, time-served steel craftsmen to experienced teams of fitters that are trained to deliver a full in-house design, manufacture and installation service. With bespoke staircase designs, materials and finishes readily available, see below to find out more.
Contact
T 0330 123 2447
info@spiral.uk.com
www.spiral.uk.com