Building and Construction Review is pleased to announce that Pictorial Meadows has received our Commitment to Excellence Award, for their dedication to making stunning meadow planting compositions available to everyone. Pictorial Meadows was born out of an initial project 20 years ago at the University of Sheffield, the world's leading centre for ecological planting design, to develop beautiful meadows which would thrive on average garden soils, unlike their native meadow counterparts which needed drastically altered soils to thrive.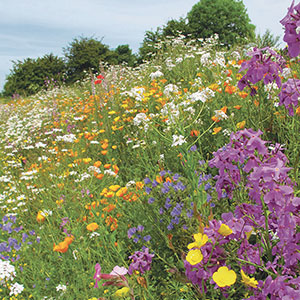 Through this project, they developed a drastically different approach to meadow landscapes, combining ecology with design. With experimental plots in Sheffield, the designs were improved and research was carried out into the care and establishment of meadows, allowing them to be used across various projects including large scale public schemes, major visitor attractions (they were integral to the success of the Olympic Park) and new housing developments.
Since 2004, Pictorial Meadows has been part owned by the University of Sheffield and social enterprise Green Estate. Now, the company is made up of landscape architects, researchers, horticulturalists, and landscape managers, meaning Pictorial Meadows can offer great products as well as specialist skills.
"Our capabilities range from just providing the seeds and turf products all the way to an all-inclusive service," Jonathan Wild explains. "We can offer consultations, with a full report including recommendations on the best seed mixes and designs. Then, we can supply the seeds or offer a landscaping service. We can also provide a full maintenance service to make it easier for customers to achieve a meadow and keep it in good condition. As well as this, we offer bespoke mixes, meaning that customers can get involved in the design process and receive a customised meadow."
As well as unrivalled technical knowledge and design interests, Pictorial Meadows can control all aspects of product quality in-house. What's more, their designs are based on carefully composed recipes, which allow complex and well-structured meadows to be established and to be improved each year after the initial planting.
A particular product of interest is their PM Turf. "This is the easiest way for our customers to get a meadow. We grow the turf at our farm, and then take it to the customer, ready to be laid." The PM Turf is sent freshly harvested from the farm, which arrives on a pallet to be easily lifted off and laid by two people.
Pictorial Meadows delivers its products across the UK and increasingly in Europe, and they are working to continue their international expansion and help transform environments worldwide. For more information, head to their website to check out their extensive list of case studies where they have transformed city centres, universities and private homes up and down the country. Alternatively, get in touch using the contact details below.
T +44 (0)1142 677635
info@pictorialmeadows.co.uk
www.pictorialmeadows.co.uk