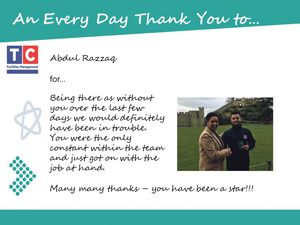 Situated in the heart of Warwickshire, Warwick Castle features a large estate of grounds and buildings dating back to Anglo-Saxon times.
The grounds alone cover almost 3 square kilometres. The whole site needs patrolling and protecting to ensure that the site is safe and secure at all times, not just for the visitors but for the staff who come to work each day.
Never was this more important than when the Beast from the East laid siege at the castle last month.
Snow had hit the site severely, meaning that it was closed to visitors.
Abdul Rassaq, who works for Security Services provider, TC Security Services, was on duty over this period.
Not only did Abdul complete his usual patrols but he cleared footpaths and other areas of snow, to ensure that access for staff was safe at all times.
His contribution and commitment to employee safety has been recognised and duly noted by the site Operations Support Manager at Warwick Castle. Who said,
Abdul, I know I have already said this but also wanted to make the thank you official. Without you over the last few days we would definitely have been in trouble. You were the only constant within the team and just got on with the job at hand. You definitely stepped up when we needed you too. Many, many thanks – you have been a star!!!
T +44 (0)1737 814016
info@tcfm.co.uk
www.tcfm.co.uk