Azpects was established in 2009 by Paul Taylor and Michael Downing. The company maintains locations in Ipswich, Suffolk and an office in Texas, USA which opened in 2016. Azpects was born from a discovery made by its two directors; Taylor and Downing discovered an innovative product which they believed could benefit landscapers across Britain. They launched EASYJoint in January 2010, which has since experienced significant recognition, becoming the UK's leading product for joining patios, paths and paving.
Azpects specialises in developing and manufacturing products for the creation and maintenance of outdoor hard landscaping. The main ambition of the company is simply to deliver high-quality products, that make common construction and care challenges easier and less frequent.
"Our comprehensive range of joint fillers, surface cleaners, protectors and other ancillary products are distributed through builders' merchants and landscape supply centres. All are designed to make both the professional and DIYer's job easier when it comes to installing and maintaining hard landscaping materials. We believe our products are easier, quicker and more effective than alternatives," said Kevin Ager, Sales Director.
The company now maintains a wide range of over 40 products, aimed at both professional landscapers and consumers. The range includes products to help establish surfaces such as patios, paths and driveways, and products to help clean and protect surfaces including paving, decking and ornaments. Azpects products are available through builders' merchants, trade outlets, garden centres and leading DIY retailers.
Azpects has built a reputation of quality and has developed unrivalled experience within its sector by listening to its customers and providing solutions for their needs.
"Our customers fall into two categories; Stockists and Suppliers (i.e. builders merchants or on‐line channels). Our service and support to our stockists is second to none, providing dedicated Account Managers to service the customer on a very regular basis, delivering specialist training on our products and general support for the end-user," said Kevin.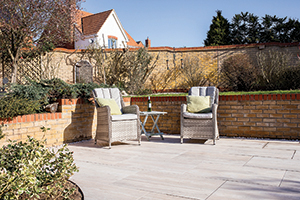 Supported by their expert and experienced team, Azpects formulates specific solutions to customers challenges. The extensive skills to achieve this have been developed within the chemicals industry. Solutions are achieved quickly and delivered expertly by their team of customer support specialists.
Kevin continued, "We offer tailored marketing support (traditional and social media led) from our in‐house professional marketing team. We provide detailed usage instructions with a comprehensive catalogue of support videos. We also offer a customer support team, who are on hand to handle individual technical queries available by telephone."
A noteworthy product within the Azpects range is its EASYClickBase (ECB), a revolutionary synthetic sub‐base system. Whereas traditional methods of laying paving and driveways require substantial excavation and subsequently, result in costly disposal of residual materials and the import of expensive aggregates; ECB significantly reduces all these requirements while maintaining the integrity of the project. The main benefits of ECB are reducing time, labour and costs.
"The use of ECB means much less digging out, less backfill and less waste. ECB tasks all that without the aid of mechanical apparatus, which would have previously had to be done laboriously by hand. It saves time and money and reduces the environmental impact of patio and driveway projects. ECB has further environmental credentials in that it is made from recycled plastic and is recyclable. It is lightweight and easy to transport and solves the landscaper's nightmare problem of working in areas with restricted access for plant and machinery," added Kevin.
In terms of the latest developments for the company, Azpects has taken a flexible home-working approach in response to challenges imposed by the COVID-19 pandemic. Kevin expanded on the company's challenges over the last 12 months, "we adopted a flexible approach to home‐working and invested in video‐conferencing software which enabled us to continue to grow the business despite the challenges. Demand for certain products increased during the lockdowns, as consumers began to focus on improving their own outdoor spaces rather than holidaying abroad. The challenge isn't over; material shortages are affecting the whole of the landscaping and construction industry. We're proud to supply alternative products such as EASYJoint and EASYClickbase, that enable landscapers to get on with their jobs despite shortages of cement and aggregate."
Indeed, the COVID-19 pandemic has presented many new challenges for the industry and Azpects has risen to and continues to face these challenges head-on. Impressively the company has seen some expansion with growth in personnel, adding additional marketing support which further evidences the company's commitment to continuous development and improvement. Azpects has also seen the establishment of a retail division aimed at providing services for garden centres and the general public which is an exciting new development.
As the company plans for the future, Azpects intends to continue broadening and enhancing its range. Kevin stated, "Our R&D team continue to refine our existing range and seek new solutions to challenges met every day by landscapers and gardeners. We maintain many innovative products which are planned for launch throughout 2022 and beyond."
For any more information, please see the details below.
Contact
T +44 (0)1473 760777
www.azpects.co.uk