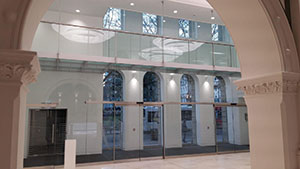 Established in 2011 by Dominic Meakins, Demon Designs is an award winning glass contractor specialising in offering completely bespoke and tailor made products to a wide range of customers. Based in Arundel, near West Sussex, the glass and metal specialists supply and fit expertly designed staircases, balustrades, splashbacks, shop fronts, walk-on glass floors/bridges, glass ceilings, glass roofs and aluminium curtain walling.
In addition, the experienced team can create custom-made door solutions, automatic entrances, sliding glass doors and even glass canopies. Their services cover everything from CAD design services to toughened glass, laminated glass, glass worktops and coloured splashbacks, balustrades, juliette balconies, bespoke shower screens, sliding glass doors and flush glazed doors. Their high quality toughened glass can be from 4mm thick to 19mm, whilst laminated glass is from 6.4mm to 21.5mm.
For those seeking structural glass solutions, Demon Designs' can design, manufacture and install everything from shower screens to shop fronts. They also provide labour, design and lifting solutions for glazing contractors and partition companies, as well as practical and technical advice if needed. They work closely together with clients to ensure that their specific needs are met with tailor made solutions. Their consultations are always highly professional but personable as well, involving in-depth discussions specifying project requirements and producing detailed quotations.
Having over twenty years of rich experience together with a highly talented skill set, the in-house team has been particularly praised for their unsurpassed knowledge in glass product development and creation.
They supply and deliver all types of glass and, thanks to their buying power, can offer high competitive rates and fast turnaround times. When it comes to anything glass and metal, Demon Designs is the one stop shop clients need.
To find out how you can benefit from Demon Designs' services, get in touch with the contact information below.
T +44 (0)1903 733206
info@demon-designs.co.uk
www.demon-designs.co.uk