We are proud to announce that DCON Safety Consultants Limited has received our Building Products & Services Award for 2020.
Diarmuid Condon, Owner and Managing Director of DCON Safety Consultants Limited noted his delight in having been considered for this award. Diarmuid reflects on the broadband definition of award-winning as having won a prize in recognition of quality.
"From our point of view here at DCON Safety Consultants Limited, award winning means so much more than just the receipt of a prize. Our ambition and drive continues to be quality based on the priority of high level specialism services offering informed, intelligent advice, senior project resource allocation and compliance assurance.
DCON Safety Consultants Limited benefits from a strong understanding of the potential risks within the built environment sectors they are engaged in. Our model of service enables an over the shoulder compliance and best practice support means to be provided that seeks to meet or exceed thier client's expectations.
DCON Safety Consultants business intention is to consistently ensure that client's best interest and statutory conformities are secured. Our greatest resource is our exceptional team of technical construction and safety consultant partners. Our consultants and alliances with other key individuals and organisations enable us to provide a broad brush level of support to clients in all divisions of design, planning and construction safety. We will remain relentless in our support of safe outcomes aiding our clients to realise their visions."
DCON Safety Consultants Limited has a suite of wonderful clients who reuse thier services time and again. Diarmuid remarks that while their pipeline remains strong, the Covid 19 and Brexit impact will play their part going forward. The reactivation of public sector works in residential and infrastructural sectors will present future opportunities for the business.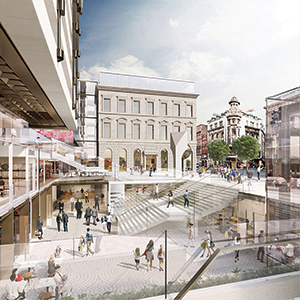 The main service provided by DCON Safety Consultants Limited is Project Supervisor for the Design Process (CDM Advisor Plus), Pre-Planning Compliance, Safe Design Adherence, Health & Safety Strategy creation and Expert Witness. Regardless of project size or complexity, DCON Safety Consultants Limited maintains a wealth of expertise in the built environment and generates distinctive and innovative ideas born out of traditional construction service inputs and outputs.
Strategically supporting a positive planning decision is what sets DCON Safety Consultants Limited apart from their competition. "Our Construction Management Plan (CMP) offering provides clients with the means to demonstrate a commitment to safety in overall planning, coordination and control of a project from construction commencement to completion." Diarmuid continues, "These safeguards seek to support the obligation placed on a client to produce a safe, functional and financially viable project."
Diarmuid uses his extensive network of contacts to recruit precisely the right person to protect his clients' interests and uses his unique perspective to encourage, support and mentor the abilities of his colleagues. Diarmuid is an integral part of the company and ensures that it excels in providing services to its clients, and displays exceptional achievement designing and executing strategic safety plans and systems.
DCON Safety Consultants Limited maintains an extensive client list which includes: public sector departments, corporate owners, real estate developers, main contractors, design professionals and infrastructural bodies. A Quantity Surveyor by qualification, Diarmuid consistently demonstrates his extensive knowledge and expertise including prior to setting up DCON Safety Consultants Limited, Diarmuid was responsible for Safety, Health & Quality consultancy services in Ireland for a global project management/cost management consultancy. "I was afforded the opportunity to hone my technical and soft skills while working on some of Ireland's most recognisable projects." Diarmuid stated.
"I would like to take this opportunity to thank Building and Construction Review (Midlands) Limited for this award look forward to our future publications together." Diarmuid concluded.
Contact
T +353 (0) 1 611 1556
www.dconsafety.com