Within this issue of Building and Construction Review, we have selected one of the leading UK suppliers of survey and safety equipment, Global Survey Equipment (GSE) as the recipient of our Building Services Award. Through the company's clear devotion to their customers and for their ongoing commitment to the construction industry Global Survey Equipment (GSE) have been contributing significantly to the ongoing development of the industry.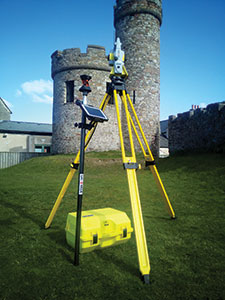 Established in 2011 by Mark Owen and Matthew McGuire, Global Survey Equipment (GSE) is a constantly growing company within the survey and safety sector of the construction industry. Based in Atherton, Global Survey Equipment are ideally located in the heart of the North West of England, enabling the company to have access to extensive motorway networks and delivering the most efficient delivery service possible for their customers.
Global's four main areas of services they provide are: hire, sales, repair and calibration, although they also provide instrument and cable location training.
GSE offers a broad range of products, all of which are kept up to date with the latest technology. The survey equipment the company supplies are extensive to say the least, and undoubtedly cover all aspects of the surveying process. GSE offers everything from auto levels to robotic instruments & GNSS, all of which are under the manufacturing brand of GeoMax (part of the Hexagon group).
The Zoom 90 is the ultimate one-man system with up to 20% more automation performance and extended reflectorless measurement capability. Add to this the X-pad ultimate field software, which is entirely user focused and adopts an ideal balance between clear structure, uncomplicated workflows and impressive functionality.
The latest addition to GSE's already impressive product range is the GeoMax Zenith 40, the flagship of the GeoMax GNSS receivers. The Zenith 40 is equipped with the latest cutting-edge measurement engine and supporting fast converging precise point positioning it provides the highest level of technology and meets the toughest MIL standards.
GSE also presents a range of detection devices, including Cable Avoidance solutions, Environment Meters ,Drain Cameras and Gas Detectors. Cable avoidance products include CATs, Gennys and Accessories. The company also provides a half day C.Scope training course on the intricacies of cable avoidance. Environment Meters include Light Meters, Moisture Meters, Sound Meters, Thermometers and Air Flow Meters, and Gas Detection solutions.
In terms of their calibration, servicing and repair services, the company provides a full instrument calibration, alongside servicing and repairs on all surveying and confined space safety equipment. All of the service technicians at GSE are trained and fully compliant to the highest standards, undertaking regular professional training. Another notable service that GSE provide is as a warranty agent for Dewalt lasers in which, GSE deliver all the calibration and repairs throughout the UK.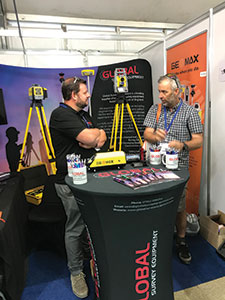 Along with detection and survey equipment, GSE supplies reliable and durable health and safety equipment for confined space entry and working at heights. GSE has your health and safety concerns covered, with all products complying with legislative regulations, you can be sure that you're in safe hands when calling on GSE to secure the safety of your work site.
GSE is not only dedicated to offering state of the art and reliable products, but to maintaining strong, trusting relationships with its clients too. We had the pleasure of speaking with Co-founder Mark Owen, he told us that "GeoMax instruments aim to make the end users jobs more efficient. We pride ourselves on our service and close relationships with clients". It's the attentive attitude that GSE adopts that gives the company its edge and sets it apart from its competitors. Often, large suppliers might not make the time to work with clients in order to arrive at the most mutually beneficial outcome, however GSE does, making customer satisfaction as significant as profitability.
GSE aims to sustain this attitude as it pushes forward, while also paying keen attention to growth and expansion, ensuring that construction and civil engineering industries are all given the opportunity to benefit from the broad spectrum of products that GSE supplies. The company attends the Hillhead trade show held every two years, exhibiting and showcasing their product range and the way it is reshaping the construction and engineering industries.
To find out any more information or to contact Global Survey Equipment directly, please see the details featured below.
The Sawmills
52 Rosedale Avenue
Atherton
Manchester
M46 0DZ
T 01942 896244
sales@globalsurveyequipment.com
www.globalsurveyequipment.com