Building and Construction Review believes in rewarding businesses that have been consistent in their dedication to bringing customers the most innovative and beneficial products. Whether it's office, warehouse or industrial based business, the strains of the 9-5 can often take their toll on the health and wellbeing of an employee. AJ Products has for over 40 years dedicated its time, energy and money to finding solutions that improve the general happiness of workers worldwide, and subsequently we are proud to announce the company as the winner of our Product Innovation Award.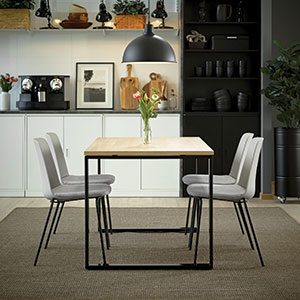 Established in 1975, and now celebrating its 44th year in business, AJ Products is a leading manufacturer and supplier of office, warehouse, industrial and educatory furniture and accessories, boasting an inventory consisting of over 15,000 products. Products range from desking and seating, to racking and shelving, to moving equipment, all of which has been manufactured to standards that greatly surpass adequacy. The company ensures that the products it offers are of the highest quality and are as aesthetically pleasing as they are practical and functional.
The depth of the company's product line is one of the many aspects of AJ Products that gives it its edge. There are few businesses that offer such diversity of product as AJ Products. Despite being primarily furniture manufacturers, the company offers a wide and comprehensive range of accessories and convenient nick-knacks that both compliment and convenience a variety of home and professional situations.
AJ Products' impressive ability to supply every necessary ingredient for a functioning business all from one source is another advantage the company brings. By cutting out the middle man, and the need to have to source individual items from individual companies, AJ Products relaxes the process of purchasing business furniture and accessories. The importance of remaining destressed is something fluent throughout AJ Products' business practice, with the company placing notable focus on health and wellbeing.
UK Managing Director David English explains, "Of all the products we manufacture, our main UK focus is on health and wellbeing in the workplace. Our complete range of electrical sit-stand desking, anti-fatigue mats and active seating (stools which make you sit upright in the correct position) have now just been complimented by a sit-stand conference table, shortlisted for the European Office Product of the year awards. By standing for meetings, they become shorter, more productive and healthier. Standing for three hours a day burns as many calories as completing 10 marathons a year!"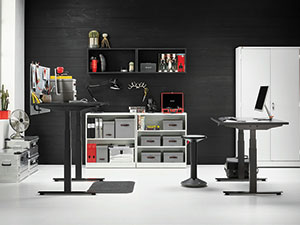 AJ Products' UK Head Office is based in Farnborough, Hampshire, with the company's International Head Office and National Distribution Centre sitting on Sweden's west coast, in Halmstad. Furthering on from the two aforementioned locations, AJ Products has offices in 19 countries, alongside two European Manufacturing Plants. The magnitude of the company, and the exponential growth it has seen over the years is undoubtedly a testament to its reliability and innovative nature.
"One of our advantages is that our product range covers everyone," says David English. "I am very proud of the fact that we do not have any main clients or customer groups. We help individuals, through to SME's, through to global corporates. Everyone is equally important to us, and we strive to improve each and every day."
AJ Products has just invested £1m in its metal factory with hopes that this will enable the production and manufacturing of improved products at an improved speed. Along with the investment in facilities, the company has invested heavily in its UK staff and has subsequently seen a 40% sales growth so far this year. The growth is one that is consistent year on year, and has given the company a solid foundation on which to plan for further investment and business development.
David English adds, "We are a one-stop-shop for our clients and potential clients. We offer floor space planning and design consultation services, along with free delivery with no minimum order throughout the UK to homes and businesses. We hope that AJ Products can help make your place of work a happier, healthier, more productive place to be. We will also be sponsoring the Elite Ice Hockey league for the next season in the UK. We sponsor the Ice Hockey World Championships, and believe supporting the UK Elite League is a great for our business, and continues the message of fitness and wellbeing, linked with success."
AJ Products regularly attends trade shows, with a notable mention being The Facilities Show at London's ExCeL, which acts as an excellent platform upon which to showcase new and exciting products. Throughout the next 12 months AJ Products will be very present within the trade show circuit, with plans to exhibit at the IHMX show in September at Birmingham's NEC. Make sure to book yourself a visit and catch them there!
For more information on AJ Products, get in touch via the details listed below, or visit the company website.
T 01252 359760
info@ajproducts.co.uk
www.ajproducts.co.uk