The RJW Engineering Group was established in 1989, the company specialises in prototype manufacturing, working with stainless steel, mild steel, plastic and other associated materials, turning client's concepts into reality. With the motto of Engineering Excellence, the RJW Engineering group have even achieved a place in the Guinness book of records for the largest copper pipe fitting in the world.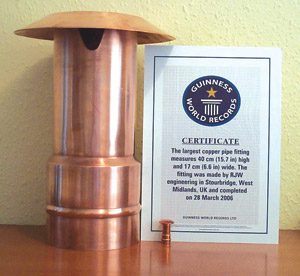 Pipe Cowl; Saves up to 15 minutes on boiler installation, there is no fabrication and the product is the only NHBC and British Gas approved Pressure relief valve for boilers. Manufactured to the EN1254, this product is a quick, neat and simple solution for the pressure relief termination. Other products include the Click Fix, promises to fix pipes without the need to 'cut' the pipework. Sealing holes in 15mm and 22 mm pipes, just add flux to the click fix, clip over the hole and heat until a seal is made. The Burst Alert is an innovative product that provides automatic action to prevent leaks turning into flood; the moment the copper tape becomes wet a wireless signal is sent to the auto ball valve to switch off, then a text message is sent advising you there is a water leak but not to worry as the water has been turned off. The Drain Early Warning System, 'DEWS' is an advance warning system that alerts clients to rising and falling water levels, giving the occupant a chance to remove valuable items from their home or replenish water levels. The device has a built in SIM card that will automatically text a mobile phone or an in house unit that activates an alarm. Yet another safety measure product is the Safety Stair Rods, these prevent the risks of slips and trips on the stairs, fitting widths of 28"-40" the 14 spring rods hold sheeting to each individual stair. This product helps clients keep up to date with Government Health and Safety Legislations.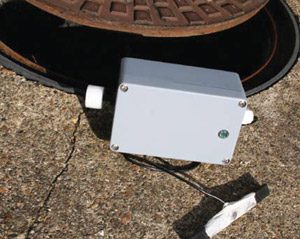 Whilst there Drain key allows the safe lifting of man hole covers, this adjustable spring loaded key ensures the man hole cover stays attached preventing slips or chamber breaks.
These innovative products allow their client's an efficient and easy solution to all DIY and Construction issues by putting safety first.
T +44 (0)1384 442852
www.rjwengineering.co
www.pipecowl.com