Building and Construction Review is proud to announce that USP Creations Ltd, trading as Wonderwall has been chosen to receive our Outdoor Building Services Company of the Year 2020 award. Wonderwall was chosen for its outstanding range of innovative garden products which are helping to breathe life into places and spaces across the country.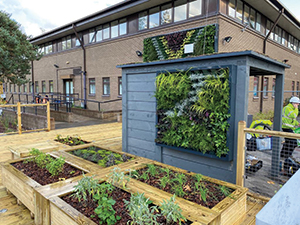 Established in 2016 by Rick McKeever, Director of UPS Creations, Wonderwall produces high quality and unique decorative garden products. With a team that is always thinking outside of the box, creativity is woven into its company culture, focusing on designing and developing products which will transform environments inside and out. The team comprises passionate and knowledgeable horticultural specialists, combining their wealth of experience to produce some of the UK's most stunning features and living wall designs.
Rick said, "We pride ourselves on providing reasonable prices without sacrificing quality. We also look after our customers throughout the whole process; we offer on-site visits and provide our clients with consultancy and services across the whole journey."
With Wonderwall's vertical planters, the only limit is your imagination. Providing an excellent opportunity to create diverse and bespoke garden designs, they are perfect for producing living wall designs for a stunning internal or external feature. Not only are they aesthetically pleasing, but they can also help reduce your carbon footprint, save energy, improve air quality, and boost staff morale and wellbeing.
And the need for addressing mental health and stress concerns in the workplace has become even more noticeable during the COVID-19 pandemic. Rick added, "Mental health is even more relevant now than ever! Mental health and wellbeing are a big focus for us going forward, as well as the environmental benefits and increase in biodiversity a living wall can bring."
Wonderwall certainly has some exciting plans to look forward to next year, after a successful 12 months despite the challenges of COVID-19. Rick added, "We have been heavily involved in the Ignition Project at Salford University, for which we were chosen as a partner. The project is looking at ways of implementing green infrastructure, how companies can reduce their carbon footprint, and become more environmentally friendly. We will also be working on a project with Bentley Motors at their manufacturing plant in Crewe."
Rick continued, "We've got some big projects coming up, so watch this space – not just in the UK but around the world! There is also a brand new product that we have been developing over the past years that will be launching in the new year. There are numerous different developments going on for green infrastructure, and we've got plenty more to offer the market in addition to living walls, such as green roofs and water retention products – there's lots of progress going on behind the Wonderwall!"
If you would like to find out more information, head to the website or get in touch using the details below.