In this issue of Building and Construction Review, we are pleased to announce Bluerun Ltd as the recipient of our Building Products and Services Award.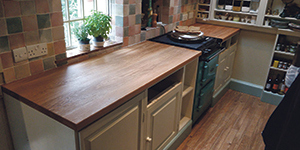 Bluerun Ltd is dedicated to manufacturing top quality, bespoke custom-made joinery for the domestic and commercial markets. All of its joinery is manufactured on premises using hardwood, softwood or sheet materials. As well as offering finished goods sprayed to a primed or painted finish, Bluerun Ltd also offer other treatments and installation services for some products. Where other products can't be installed, Bluerun Ltd has reliable suggestions of other companies that customers can be recommended to.
Bluerun Ltd is a family run business and was established in October 1991 by its current Managing Director, John Jones. Based in Wimbish, just outside Saffron Walden in Essex, its factory covers 7,000 sq. ft2, and can manufacture in hard or softwoods, and veneered and painted panels. Its modern spray paint and lacquer facility enables products to leave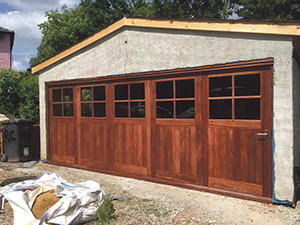 the factory in a fully finished state. The ethos surrounding the company boasts comradery, team work and dedication to the customer. "Here at Bluerun Ltd, we promote quality, family and pride in all that we do. The bespoke items manufactured in our workshops are made to a high standard thanks to the joiners who make them. The whole team take pride in their work," stated Dee Newman, Finance Director.
A proud moment, in 2019, John Jones' daughter was the most recent addition to the board, from humble beginnings, the company has gained remarkable growth within the building trade and is well known for its top-quality joinery. "Our bench joinery team is small and has extremely high standards. Whilst we use power tools and machinery, there is no CNC or computer aided design, or drawings used. We pride ourselves on being 'old school', and still use hand tools to finish off many of our bespoke items. Everything is designed in-house, that is if no drawings are supplied by the clients," said Dee.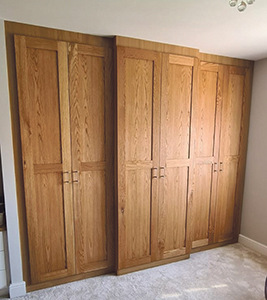 For the commercial industry, the majority of its production is for commercial builders and manufacturing. The company provides all type of commercial joinery products from large scale repeat production runs of windows, frames, and doors, to both large and small-scale customers for internal and external projects. Past projects include manufactured joinery to multiplex cinemas and shopping centre fitouts throughout the UK, to external work with household brands such as Homebase, Starbucks and Waitrose. Hospitality, education, business and medical sectors are also catered for. Even though Bluerun Ltd is capable of producing the most modern styles to suit modern offices and commercial projects, it also produces high quality joinery to meet the exacting standards of conservation areas or heritage sites.
The company also provide domestic bespoke joinery from custom door replacements to bespoke furniture. Its portfolio includes decking, balcony balustrading, and gazebos as well as replacement stairs, banisters, mouldings or bespoke cabinets and bookcases for interiors. Bluerun Ltd has even designed and produced a custom-made Wendy house for a private client. Whatever your joinery needs, Bluerun Ltd can provide exactly what you're looking for. Dee explained a further service available from Bluerun Ltd, "It doesn't seem to be widely known that we can reproduce items to match the existing ones; we have reproduced casement windows to match the existing but rotten ones that are beyond repair. If a client likes a particular style of door, we can usually reproduce this to match from just a photograph.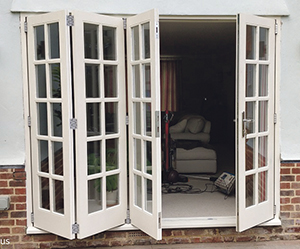 Similarly, we can produce architrave, skirting and handrails to match a specific profile most of the time. Anyone who needs something manufactured from timber or wood products on a bespoke basis, we can provide."
The first COVID-19 lockdown was difficult for Bluerun Ltd, "We closed our doors just for a few weeks in 2020 when the pandemic started. This was due to having no work in the order bank and we were unsure if we could remain trading," however, once a more structural plan was in place, the company went from strength to strength. Dee continued, "Once everything was clarified and the enquiries started again, we re-opened (we're classed as manufacturing, so this was possible) and had one of our busiest years. Following the guidelines, we were extra careful when carrying out any site visits, and the whole team was on board and happy to come back and start working again."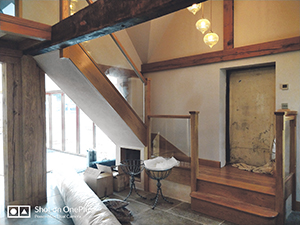 October 1991 marks the company's 30th anniversary of incorporation – what a tremendous achievement made by all. Dee had some words of encouragement to mark the occasion of both its anniversary and award feature, "We are all extremely proud. The company couldn't have made it this far without our joinery team and our loyal clients we have worked with over this time. Some employees have worked with John since the 1970s, at a previous company, and we believe that we have a great and loyal team. This is the first award we have received, it's always nice to be recognised with something that we can be proud of."
For more information, see below:
T 01799 599995
dee@bluerunltd.co.uk
www.bluerunltd.co.uk