Building & Construction Review is extremely happy to announce that Tuff Waterproofing have been deservedly chosen as the Best Company at the acclaimed UK Construction Week.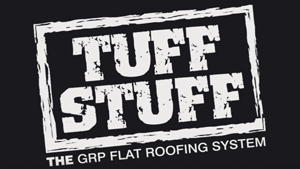 Tuff Waterproofing attended the Build Show where they showcased their range of roofing materials, equipment and services. Tuff Waterproofing specialise in manufacturing and supplying heavy-duty GRP waterproof flat roof systems, as well as assistive products. The company was first set up in 2011 and grew out of an installation company that already had 30 years of experience. Heading Tuff Waterproofing is a considerably experienced and knowledgeable team, all of whom have over decades of experience in the industry. Not only does this allow them to supply their unrivalled flat roof systems, but it also means that they can provide top notch training, support and technical advice too. Compared to those who specialise in solely manufacturing or installation, Tuff Waterproofing are able to supply a comprehensive service that works closely with customers and contractors.
We spoke to Gregory Gimenez, Managing Director at Tuff Waterproofing, who explained, "The life blood of Tuff Waterproofing is in our ability to provide exceptional training and professional support system for all of our clients. Our current dedicated team has between 15 and 20 years of experience in development and installation of our products thereby offering the very best in technical advice in the business."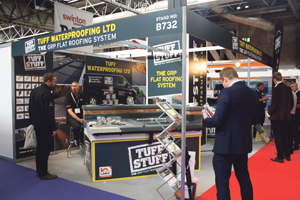 Based in North Yorkshire, Tuff Waterproofing supply to Builders Merchants and Roofing Centres throughout the UK. In addition to being one of the UK's leading providers of waterproof flat roofing systems, they are also incredibly proud to work in collaboration with Velux with regard to their highly sought after flat roof windows. As one of a select few to be chosen by Velux, a globally recognised multi-national group, they were held in extremely high recognition by those at the Build Show.
As for Tuff Waterproofing's products, they have a wide and varied product range to choose from which were also on display at the trade event. One notable and popular product is the TuffStuff® Grey Slate Top Coat that comes ready mixed for faster application and comes in a 15kg tin that can cover an impressive 30 square meters. Other TuffStuff coats include Basecoat (15 Kg) and application tools. Tuff Waterproofing also supply catalysts, reinforcing mat, roof trims and much more. Visitors of the UK Construction Week were particularly impressed by their newly launched TuffStuff® 10M² Roof Pack, an extensive one stop solution kit containing everything needed for installing a 10M² flat roof (OSB 3 Board and Trims to be sourced separately).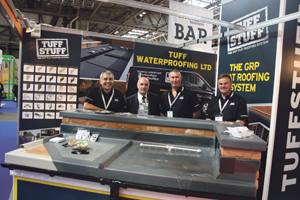 It contains a base coat resin, grey slate top coat, catalyst, reinforcement mat, finishing tissue, a wide bandage, GRP trim adhesive, latex gloves and finally a warranty certificate and installation manual.
When it comes to their training and technical support, Tuff Waterproofing have a committed and robust support team that prides itself on helping customers achieve the most of their products, resolving any problems and minimising future issues.
If you would like to find out more on Tuff Waterproofing or how they can help you can the roof you require, then don't hesitate to get into contact today.
T: 01977 680 250